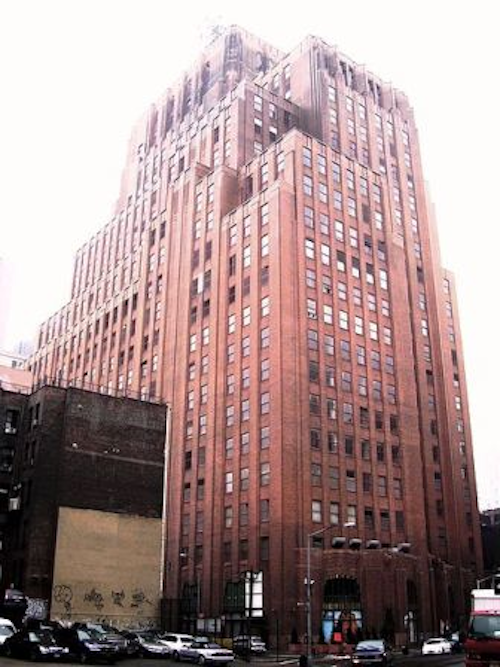 Image Source:Wikimedia Commons

DataGryd recently opened its green urban data center facility at 60 Hudson Street in Manhattan, known as one of the top carrier hotels in North America. For the facility, the company implemented a complete infrastructure retrofit within the 80-year old space (housed in the original Western Union building), replacing outdated mechanical systems and significantly upgrading data center power and cooling capacity. The facility spans multiple floors of one of the world's most connected buildings -- situated at the crossroads of the national fiber highway -- and will meet the increasing demands for high-power data processing and data storage centers in New York's urban market, providing up to 27 megawatts of energy-efficient onsite power.
The infrastructure retrofit involves what DataGryd claims is the first enterprise IT application of AMSC's lightweight, compact LVDC superconductor cables, which carry massive amounts of power at a low voltage, with superior efficiency and negligible voltage drop. Additionally, the facility employs a natural gas, onsite cogeneration plant, engineered and installed by DataGryd, which utilizes energy heat produced -- that would normally be wasted -- to cool the facility.
The company notes that data traffic from text messaging, emails, financial transactions, interactive gaming, and cable TV is multiplying daily, requiring more from data centers, and consequently more from the power grid. To ease the burden on New York City's grid, the company engineered its MicroGryd platform, which consists of an onsite natural gas combined cooling, heating and power plant (CCHP), designed under strict EPA guidelines, and a backup diesel generator with 26,000 gallons of fuel storage.
Behind the state-of-the art CCHP plant are low-emissions Mercury 50 recuperated gas turbines, manufactured by Solar Turbines, that use natural gas to generate power, along with a double-effect absorption chiller from Broad USA that utilizes otherwise wasted heat energy from the gas turbines to cool the data center.
Additionally, DataGryd cites the new facility as the first company to deploy lightweight low voltage direct current (LVDC) superconductor cables from AMSC, which carry the same amount of current as dozens of heavy conventional copper conductors, with negligible voltage drop. The combination of energy-efficient technologies will position the new data center to achieve EPA CCHP and Energy Star certifications.
"Data centers are often forced to design around the limitations of heavy conventional copper supply cables that must be restricted in length because of voltage drop requirements," notes Jack McCall, managing director of AMSC's Superconductor Power Systems. "By eliminating the limitations of copper, superconductor cables carry massive amounts of power at low voltage, with near perfect efficiency, and can provide significant economic benefits in the layout and design of data centers."
DataGryd says the facility's design will enable overall power consumption to be reduced by up to 30 percent, and will deliver significant reductions in energy usage and operating costs for customers. The data center also harbors the capacity to load-shed for the New York State Energy Research and Development Authority (NYSERDA) as well as New York City itself, shifting utility customers' electrical load to DataGryd's nine megawatt cogeneration plant, diesel generators, or a combination of both.
Spanning nearly a quarter-million square feet, the new facility allows customers the ability to design their own data center whitespace, with help from DataGryd, to maximize utilization of the MicoGryd shell. The company says its equipment-ready facilities can be delivered in any power configuration, sub-divided in almost any footprint, with power and cooling capacity added as customer needs grow. N+1 redundancy will be standard.
For more information, visit: www.datagryd.com.
Download a white paper describing AMSC's superconductor LVDC data center power cables
Download an EPA white paper on CHP technology for data centers