Data center curtains reduce energy use for healthcare provider
Separating hot air from cold, plus humidity-level adjustments, reduced energy use by 14%.
Aug 31st, 2010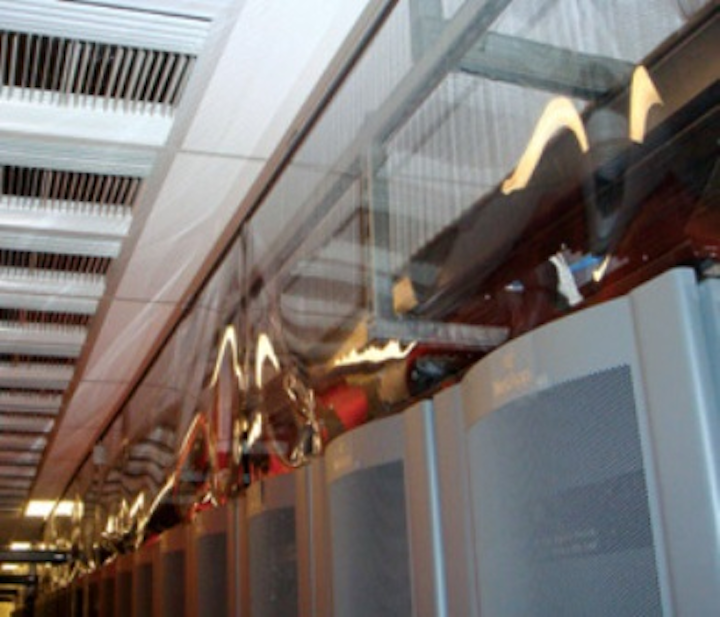 Simplex Isolation Systems reports that its AirBlock data center curtains have contributed to a 14 percent energy-use reduction for one of its customers. Trinity Health, based in southeast Michigan, operates 46 hospitals in the United States. Trinity used the data center curtains to separate hot aisles from cold aisles in two of its three major data centers. Trinity's director of data center facility management, Tom Roberts, said, "We saw substantial energy savings and/or cooling efficiencies after installing the equipment. Before installation of the AirBlock components, and changes in how we humidified the systems, some of our CRAC units were running at 100 percent around the clock. Now we are seeing them drop off to 75 percent, 50 percent, and even 25 percent. Through the combined efforts we decreased the cost of cooling the data center by 14 percent. It has allowed us to add capacity."
Trinity maintains a total of 27 data centers at the hospital level in addition to three major enterprise data centers. The two major data centers that use the data center curtains are 6,000 and 9,000 square feet respectively. "The enterprise data centers house clinical and financial applications for all our sites," Roberts explained. "They are critical facilities." He added that data center managers spent more than a year trying out curtains and partitions to isolate hot air from cold air. Ultimately, he said, AirBlock's mobility and flexibility got them the nod. "We experimented," he said. "We tried a lot of different solutions, including cabinet manufacturers, but we were impressed with the AirBlock. We are impressed with the slider door design and the quality materials, and the mounting hardware has worked out well."
Simplex area sales manager Jeff Clark added, "Reducing the amount of power required for data center cooling takes time, diligence and a coordinated team. The team at Trinity Health is empowered to make decisions and get things done. If they are not 100 percent correct they know how to solve issues and move on with the application. Tom has created a great team that is flexible, knowledgeable and adept. I can see why he was nominated as an AFCOM data center manager of the year. They are truly a great group to work with."