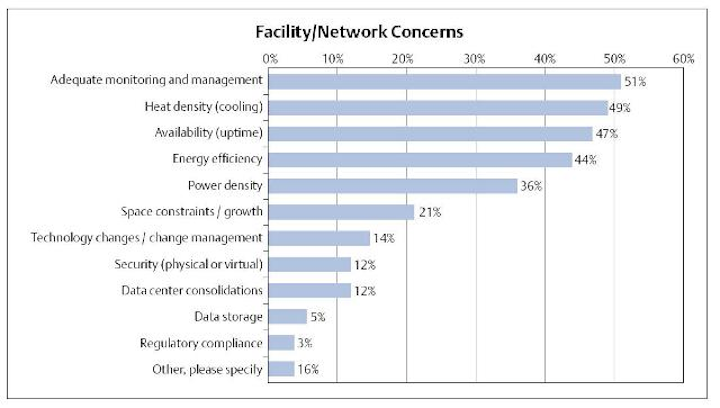 Results from the most recent survey of Emerson Network Power's Data Center Users' Group (DCUG) indicate that monitoring and management are top-of-mind concerns for data center managers, followed closely by heat density (cooling) and availability or uptime. Energy efficiency fell in terms of its rank among data center managers' concerns, but was still cited by 44% of those surveyed as a concern.
"Many in the industry are realizing that monitoring and management systems are key to ensuring availability, improving efficiency, planning for the future and managing change," said Bob Miller, vice president of Emerson Network Power's Liebert products business in North America. "These tools will continue to grow in importance as organizations seek to optimize efficiency and density without compromising availability."
Complete details of the survey are available only to the approximately 2,000 members of the DCUG, but Emerson has published a special report summarizing the results. In that report the company said, "Today's data center managers continue to struggle to balance organizational pressure to deliver both efficiency and availability. The DCUG survey indicates many understand the important role monitoring and management systems can play in ensuring availability, improving efficiency, planning for the future and managing change. As data center densities continue to rise, data center managers also are looking to new and proven cooling technologies to support high-density IT spaces."
On the apparent falling of energy efficiency as a priority, Emerson explained, "In the second half of 2008, as the U.S. economy entered a deep recession, companies focused more attention on reducing energy consumption as a means to reducing costs. This trend has been illustrated over time in past DCUG surveys. DCUG members surveyed in 2005 did not include energy efficiency in their top five data center concerns. In spring 2008, efficiency made the list at number 5. By spring 2009, efficiency had moved to the second position.
"Over the past 18 months, however, a number of companies experienced well-publicized data center outages, which can result in disruptions in services, lost data and hundreds of thousands of dollars in financial losses. In the wake of these outages, the industry seemed to refocus on availability and realized that energy efficiency gains at the expense of availability were wasted. This is reflected in the survey results. While availability was in the top three in 2008, it dropped out in 2009 as energy efficiency emerged as a pressing concern. It is back in the top three again in the most recent survey. In fact, closer examination shows availability is only slightly behind heat density, which is in the number-two position ... The likely reason for the rise of availability again is economic: One significant outage can be so costly that it wipes out years of savings achived through incremental efficiency improvements. Now the challenge is to increase efficiency while maintaining or improving availability in these increasingly dense computing environments."

The report also put into perspective the issue of power density, emphasizing it remains an issue for many data center managers. Sixty-three percent of respondents reported maximum rack power density in their data center climbing to 8 kW or greater; the figure was 59 percent in 2008. "The power density per rack in the data center is expected to trend upward in the coming years," the report says. "Sixty-eight percent expect maximum rack power density to be between 8 kW and 16 kW by 2012, while 32 percent expect it to be 16 kW or greater. ...The average rack density for respondents was 6.4 kW. It also shows this average is expected to increase to nearly 10 kW by 2012. More than half the respondents also report having less than 25 percent excess floor space in which to expand."