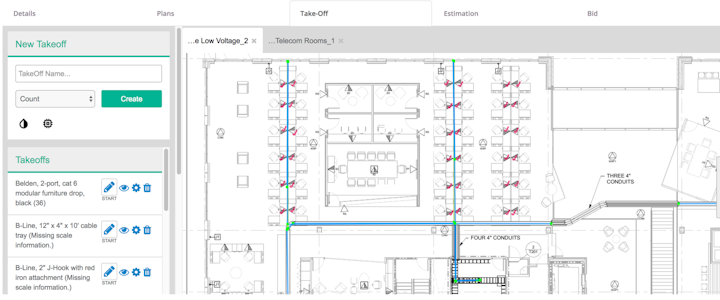 Esticom recently announced that the AutoCount and Automatic Plan Renaming features in v3 of its cloud-based construction-estimating software solution are built on machine-learning capability. The Esticom solution is a SaaS tool that incorporates modules for takeoff, estimating and job management. It serves mid- to large-size electrical, structured cabling, plumbing, HVAC, security, fire-alarm, and fire-sprinkler firms.
"We are always looking for new ways to streamline the takeoff and estimating process, and our new AutoCount and Automatic Plan Renaming features do just that by increasing precision and speed," said Chris Lee, Esticom's head estimator.
Tapping into machine learning, the AutoCount feature simplifies and improves accuracy of counting similar symbols or shapes across an entire plan set, drastically reducing the time it takes to produce a construction takeoff and estimate, Esticom pointed out. "Accessible from the takeoff screen in Esticom, users simply identify the symbol they want counted by highlighting it, then click on the AutoCount button to automatically perform bulk counts across all pages of the drawing."
Esticom displays "possible" matches after the AutoCount process is complete, and give the user the option to add these items to the takeoff using the manual count feature. The company says this process is an added quality-control measure, ensuring no items are missed. The AutoCount capability allows subcontractors bidding large of multi-level projects to easily break out project phases, the company added.
Frank Bua, an estimator with PJS Group's PJS Electric Inc., commented, "I've found the Esticom AutoCount feature to be extremely accurate, and a great time saver, especially on large projects."
The Automatic Plan Renaming function in Esticom v3 uses computer vision technology similar to AutoCount, incorporating optical character recognition (OCR) to scan the uploaded blueprint for the specific trade contractor's scope of work. After locating the correct page or pages, the pertinent drawings are renamed corresponding to the related trade (structured cabling, plumbing, electrical, etc.), which saves time because it alleviates the need to scroll through multiple pages to access the desired plan.
Esticom's Lee continued, "With this enhanced computer vision, symbols and shapes are easily identified within Esticom, allowing estimators to simultaneously count repetitive materials with greater than 95-percent accuracy and nearly 90-percent faster than manual methods."
Users can work with Esticom on a desktop computer or tablet. It is responsive and functional on any device with a web browser. Because Esticom is accessed from the cloud, subscribers have access to real-time cost-estimating data. Plus, multiple users within an organization can access critical information in a central location at any time, the company emphasizes.
Esticom is built on the Microsoft Azure cloud platform.