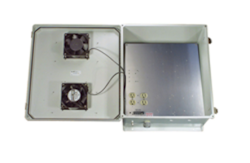 Transtector
Transtector Systems (Irvine, CA) an Infinite Electronics brand and specialist in end-to-end power and signal integrity platforms, has released a comprehensive line of NEMA-rated, weatherproof equipment enclosures, adding to its range of rugged solutions for housing and protecting sensitive equipment in harsh environmental conditions.
Transtector's new TEF18 and TEP14 lines join the widely deployed TEF14 series of enclosures. According to the company, "this enclosure line features multiple configurations for global applications including wireless networks, industrial automation, SCADA, oil and gas, mining, transportation, public works, security and automation, and more. Each enclosure provides vital protection for electronic equipment, enhancing network security and reliability."
The TEF18 enclosures are currently available in 42 different standard 18- x 16- x 8-inch configurations. The TEP14 line includes 14- x 10- x 6-inch or 4-inch sizes, with 17 enclosure configurations available. Both lines also feature a comprehensive range of available accessories.
"As today's network topologies continue to evolve, pushing more mission-critical equipment into the field, weatherproof protection for sensitive equipment is essential," said Brian Gates, Product Line Manager for the company. He added, "At Transtector, our focus is to meet the immediate requirements of today's network engineers with speed and reliability. We have more than 100 enclosure configurations available today for same-day shipping."
SEE ALSO:  Transtector UHPoE surge protection kits include L-com Cat 6a cabling
Key features of the new products include: 
Rugged construction—TEF18 is UV stabilized polyester reinforced fiberglass; TEP14 is acrylonitrile butadiene styrene (ABS)
Fully gasketed lids
Pad lock capabilities for additional security
Options include: 
Non-powered enclosures
Power-over-Ethernet (PoE) enclosures
120 Vac (TEP14)
120 Vac, 240 Vac, or 12 Vdc (TEF18)
Additional options include vents, cooling fans, heaters, insulation, DIN rail, pre-drilled mounting plates and UL-listed designs
Custom modifications are also available. For more information, visit Transtector.com.