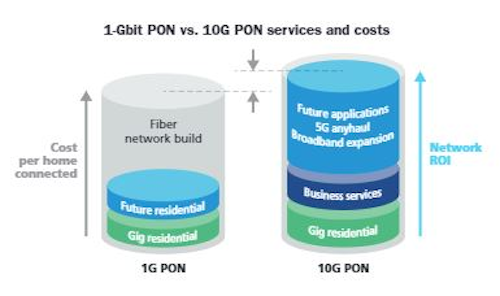 By Kurt Raaflaub,
Conservatively speaking, peak service bandwidth is growing at approximately 25 percent per household per year. Annual growth rates as high as 50% have been cited by many, but an annual growth rate of household internet usage at peak times of 25% (25.9%, more precisely) equates to the easy-to-remember definition for growth: 10 times in 10 years. So, around the time the European Commission is reviewing its progress toward the Gigabit Society 2025 goal, the average household peak usage will grow from around 5 Mbits/sec or 10 Mbits/sec to 50 Mbits/sec or 100 Mbits/sec average peak consumption per home. So how will Gigabit passive optical network (PON) technologies GPON and EPON fare as more and more households shift to multiple 4K and 8K devices, whether TVs, smartphones, security and IoT cameras that default to use tens of Mbits/sec per stream? Cloud gaming platforms use uncompressed video to support the low-latency requirements and require 25 to 50 Mbits/sec per session, and that's when operating in 1080p HD streams. What will 4K cloud gaming require?
Fiber-to-the-home (FTTH) operators need to be able to garner more customers and deliver higher-value services across their fiber optical distribution network (ODN). If unaddressed, they will be relegated to reduced returns on their fiber ODN investment, reducing the revenue potential per PON from 64 customers to 16 to support the 10-times growth (or more) that is forecasted to choke their GPON and EPON networks over the course of the next 10 years.
Gigabit: De facto definition of broadband
Regulatory bodies, consumer pressure and operator competition is driving the market to ubiquitous gigabit broadband. Gigabit broadband will enable us to realize the incredible benefits afforded by the tactile internet, critical cloud services, massive industrial IoT, smart home automation as well as augmented and virtual reality applications. FTTH has been and will continue to be, for the coming decades, the most-capable broadband access medium providing the service provider a competitive advantage through increased differentiation or greater utility.
However, as copper, coaxial and wireless technologies continue to evolve, gigabit is becoming more mainstream, even a little pedestrian, and therefore, less of an advantage for the FTTH network operator. GFast over copper phone lines, DOCSIS 3.1 over coax TV cable, and millimeter-wave wireless can all support gigabit, and their services are rolling out in earnest across the globe. This is great news as these innovations increase the pace at which we move toward the gigabit society goal. However, what does gigabit mainstreaming mean for the FTTH network operator? It all depends on whether the FTTH network is leveraging a Gigabit PON technology like GPON or EPON, or a 10-Gigabit PON (10G PON) variant like 10G-EPON, XGS-PON, or NG-PON2.
Standing out in the crowd
For many new FTTH operator entrants or expanding FTTH network operators, the choice to use next-generation 10G PON is as simple as having the ability to disrupt the market by offering gigabit rates as the entry-level service and 2-, 5-, and even 10-Gbit/sec residential service rates as options. Having the ability to advertise higher speeds than those supported by competing DOCSIS 3.1, 5G or GFast market rollouts protect market share and provide differentiation versus competing single gigabit service offers.
Beyond this marketing clout, next-generation 10G PON technology offers the scale, reliability, and flexibility to realize a future world of converged residential, enterprise, and 5G anyhaul applications. 10G PON provides improved operational profitability by supporting the convergence of many service segments across a common access network, while affording the fiber broadband provider the ability to economically deliver multi-gigabit residential services. Deploying 10G PON technology extends the life and profitability of PON network infrastructure. It has more capacity to support 4K and emerging 8K streaming video and other download services and much, much more capacity to support intensive upload services such as always-on home monitoring video and bandwidth-intensive cloud gaming services now being offered.
Fiber fuels 5G
5G involves new radio access network (RAN) architecture that involves 10 times as many cell sites, known as 5G densification. In turn, each of these hundreds of thousands of cell sites requires multi-gigabit, highly reliable fronthaul, backhaul or crosshaul connectivity networks to provide the performance levels necessary to seamlessly deliver bandwidth-intensive applications like mobile video and virtual or augmented reality.
Dense, highly scalable fixed broadband access deployments are key to realize the ambitions of 5G providing the needed network bandwidth to every new cell site. First and foremost, next-generation Nx10Gbit/sec point-to-multipoint optical fiber networks will be deployed as deeply as possible into the access network. In the U.S., it took more than a decade to connect 250,000 enterprises with point-to-point fiber, whereas in that same timeframe more than 25 million homes and businesses were connected by point-to-multipoint PON connections. This is 100 times more scale.
Marginal cost for material opportunity
1-Gbit/sec service delivering PON technologies like GPON and EPON have served us well for more than a decade, but they are quickly approaching end of life. As FTTH network capacity requirements grow over the next decade and alternative access technologies make gigabit services commonplace, the differentiation once garnered by 1G fiber service will be lost.
10G PON and its marginal cost delta versus GPON or EPON creates a material market opportunity. 10G PON has the capacity to support additional residential gigabit broadband services doubling the useful life of an ODN, regardless of the rate of bandwidth usage growth. It also provides expanded network capacity to support lucrative business and 5G anyhaul services. It can effectively support multi-gigabit services differentiating it against single-gigabit services.
And last, but not least, 10G PON, unlike GPON and EPON networks, not only supports, but dictates, multivendor ONT (optical network terminal) and OLT (optical line terminal) interoperability. This removes the closed or proprietary FTTH supplier system that locks an operator from benefiting from an expanded supplier choice when it comes to customer-device options. Also, 10G PON was designed to coexist transparently with GPON and EPON, created as a natural migration path. 10G PON services can be delivered over the exact same fiber strand that is currently being used to deliver GPON and EPON services. It does this by occupying a different set of wavelengths to allow a clean separation of the two PON technologies' services and customers.
The year of 10G
It can be argued that there are only two ways to create a competitive advantage and increase market value—through reduced cost or increased differentiation/utility. PON electronics represents only 10% of the overall FTTH connection cost with home fiber distribution construction, subscriber onboarding and truck rolls being the more-costly components. This being said, lower-cost PON electronics make a minimal impact to improving the competitiveness and overall value of an ODN investment.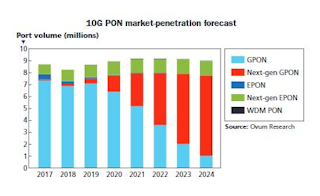 According to Ovum Research, next-generation GPON/EPON will reach a deployment tipping point in 2020. By 2022, the researcher forecasts, 10G PON technologies will out-deploy GPON and EPON.
10G PON provides a tremendous competitive advantage for FTTH network operators in terms of both reduced cost and increased utility. Whether it's providing the increased capacity to support more 50-Mbit/sec, 100-Mbit/sec, and Gig broadband services across an ODN, the ability to support both business and residential services across a common network, or having the marketing clout to offer 2-, 5-, and even 10-Gbit/sec services in the face of increased Gigabit service competition. Due to all these advantages, next-gen GPON/EPON reaches a tipping point in 2020, according to Ovum Research. They also show, in the figure included in this article, that 10G PON technologies will out-deploy GPON and EPON by 2022.
In all, 10G PON has a lot to offer over traditional PON technologies.
Kurt Raaflaub is head of strategic solutions marketing for ADTRAN. He leads the company's strategic solutions marketing, and has more than 20 years' experience in the telecom, mobile, and cable industries.