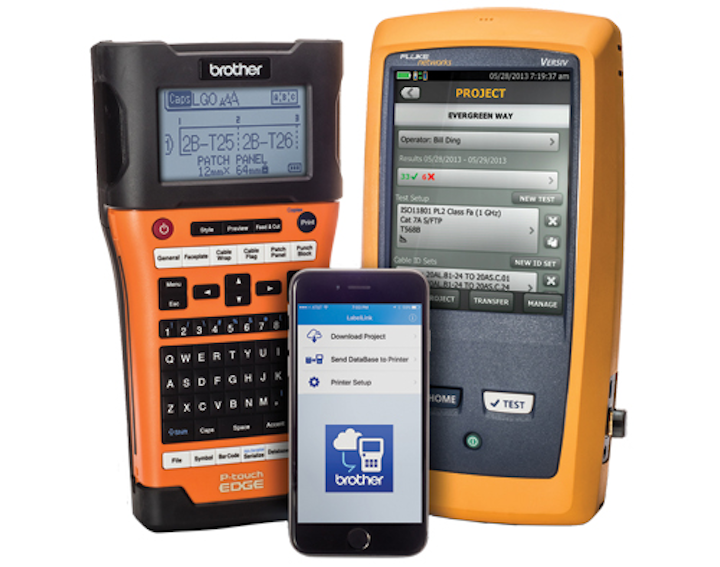 Users should look for particular capabilities and features when choosing a cloud-based labeling solution.
By Craig Robinson, Brother Mobile Solutions
Integrated cable testing and labeling is taking off in response to strong and growing demand globally. New cloud-based data solutions help bridge the gap between the office where the project originates and the jobsite. This updated functionality includes advanced project control, which helps keep data secure, and enables access to only select subcontractors, as well as the ability to download a significantly larger quantity of records.
Bridging the gap
New labeling apps integrate with the cloud to bridge the gap between the office where the project originates and the jobsite where the project data is needed with regard to testers and labeling tools, so it's easy to see why demand for these solutions is rising, according to Bill Lenz, RCDD, a BICSI-registered technician, former BICSI instructor and vice president of sales for Genesis Cabling.
"With the new iLink&Label app from Brother Mobile Solutions, our system designers and contractors can meet multiple cabling and ID project needs faster, more efficiently and accurately by centralizing project data to be accessed wirelessly with the benefit of inputting it only once. Brother has collaborated with Fluke Networks, which adds industry-leading technologies, and it has truly been a game changer for the global cable labeling industry," Lenz said.
Brother Mobile Solutions and Fluke Networks have an established partnership providing cloud-based integrated cable testing and labeling. Brother Mobile Solutions recently upgraded the former LabelLink app to the enhanced iLink&Label app.
Here's how it works.
In the office, the system designer uses Excel or CAD to plan the network infrastructure, and then uploads cable ID and component identifiers to a cabling certification tester and report management

application.

Contractors download and install the free labeling sma

rtphone app.

On the jobsite, the contractor or technician downloads the identifiers from the app into an industrial labeling tool that is used to create and print high-quality, standards-compliant, dual-lamin

ated labels.

On the jobsite, the contractor or technician also downloads the same identifiers into the cabling certification system, performs the tests, and uploads testing results for each identifier us

ing the app.

The cable identifiers and test results for each project can be stored in one place and can be retrieved and used as many time

s as needed.
Benefits of cloud-based testing and labeling solutions
Project managers, contractors and testing technicians can benefit from cloud-based solutions, as they help automate multiple workflow processes and help eliminate a major pain point in jobsite productivity. More importantly, multiple cabling and ID project needs will be met faster and more efficiently than ever before as well as ensure labeling accuracy across the entire project. Advantages include the following.
Faster reporting—Upload test results over WiFi straight from the jobsite to the correct project database. Then generate certification reports w

ith a click.

Teamwork—Divide large projects into smaller subprojects and assign to teams or subcontractors. Share results with customers or vendors. You control wh

o sees what.

Visibility—Get an overview of every project from any smart device. Drill down to each individual test. See unplanned test limits and cable IDs in y

our results.

Setup testers and labelers—Define cable IDs and test settings from your PC or tablet. Then send them to the testers or labelers at the jobsite for mistake-f

ree testing.

Asset management—Track the last used location and monitor the status of all testers to ensure they are always calibrated and running the late

st firmware.
When Brother Mobile Solutions and Fluke Networks first collaborated on a cloud-based solution in 2016, Fluke Networks explained that the resulting solution "highlights extended benefits of the LinkWare Live platform for cable installers, and makes the network and cable labeling process more efficient by allowing technicians to print cable and ID labels on the jobsite using data generated during the design and installation stages. Today's cable installation projects are larger and more complex, and demands facing network designers and installers are more rigorous than they were even a few years ago. LinkWare Live is a powerful and flexible infrastructure for our customers."
A new standard in testing and labeling
Contractors still using handwritten paper labels, laser-printed labels or office labelers for their industrial labeling needs should consider an upgrade. When shopping for a cloud-based labeling solution, make sure your label printer system offers the following options.
Wireless connectivity and WiFi and USB interfaces—Eliminate waste by using imported existing information or databases from a mobile device or laptop to save time and increa

se accuracy.

QWERTY keyboard—Easily change or reprint a label right from

the device.

Auto cutters—Print a strip of labels perforated with half cuts to save time required to peel and p

lace labels.

Label options that last in harsh environments—Protect labels with laminate applied directly on top of the label. This prevents the writing from rubbing off over time or deteriorating from the elements. UV/chemical/abrasion resistance tape options can also provide further

protection.

Extremely durable, laminated easy-peel labels, including heat-shrink tube—Use enhanced tape features like extra-strength adhesive for textured surfaces, flexible ID for cable wraps and flags, and tamper indicators to identify when the label has been removed, while providing additional optimization for varying environmental

conditions.

Different label sizes for different needs—Reduce wasted tape. Features like pre-set cable and patch panel size settings, serialization and half cuts can maximize printing large volumes of labels with mi

nimal waste.

Fast printing speed—Save time when creating and printing labels on the jobsite or in the office. Spend less time labeling so you can move on to the next pro

ject sooner.

Battery and charger options—Be sure the device includes a long-life rechargeable Li-ion battery, AC adapter/charger, a

nd USB cable

A solid warranty
Cloud-based cable labeling and testing helps save time, reduce errors, and amplify productivity—which is driving a new level of demand from all parts of the world. Because cable identifiers and test results for each project can easily be stored in one place, they can be retrieved and used as many times and virtually wherever they are needed. Therefore, system designers and contractors around the world can be confident that cloud-based testing and labeling solutions will ensure accuracy and efficiency across an entire project.