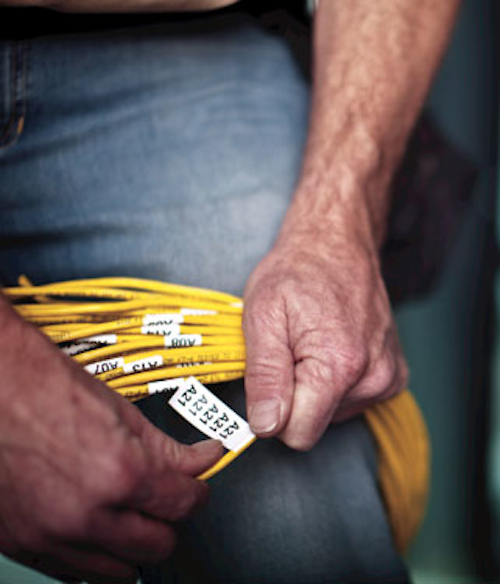 From the November 2012 Issue of Cabling Installation & Maintenance Magazine
---
A Florida installer uses labeling as a competitive advantage.
By Al Feaster, RCDD, Dymo Industrial
A common challenge for data-communication infrastructure installation companies is balancing competitive pressures with the desire to maintain the highest standards for quality, performance and value. While speed, efficiency and cost control are important in managing projects effectively and profitably, when those metrics are prioritized at the expense of proper installation practices, short-run gains are achieved at the expense of long-term value.
For example, some datacom installers purposely bid projects low, then do the install as quickly as possible and move on to the next job. This "flow and go" approach can lead to lost business opportunities because of the negative reputation that can develop when customers discover sloppy work and higher costs for fixes down the road.
On the other hand, a well-planned and documented cabling scheme offers both immediate and long-term benefits to the customer. Aside from expediting the initial installation, this asset can save both the contractor and customer valuable man-hours and money by significantly reducing the time required for troubleshooting and for planning future work-in particular, moves, adds and changes (MACs). Proper labeling and documentation also helps protect against the uncertainty of today's economy by ensuring accurate and complete knowledge transfer in cases of personnel restructuring and staffing changes. Additionally, using the right labeling tool can keep project costs in check by facilitating productivity and efficiency gains, while increasing the overall quality and value of the installation. Ultimately, clean, consistent labeling and complete documentation will help drive down total project costs to the customer and increase return on investment, while creating incremental opportunities and business referrals for the installer.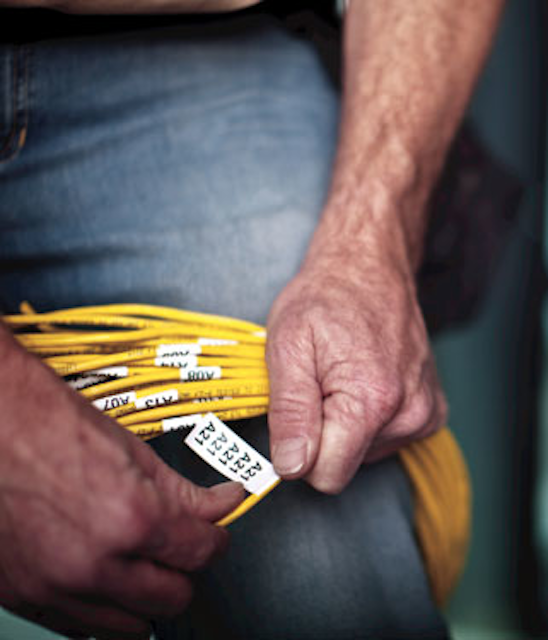 Quality labeling and documentation can streamline problem solving, particularly when a customer uses its own labeling scheme as shown here. Possessing site documentation provides an installer with control over a project and an understanding of what must be done, so decisions can be made quickly.
Dividends of best practices
A company that has parlayed its reputation for clean installations and detailed documentation into a strategic business asset is Tampa, FL-based K-Tech Solutions (KTS). KTS serves the greater Tampa Bay area, providing installation, maintenance, design, consultation and comprehensive solutions in the areas of data and voice communications. According to owner Kirt Kiester, KTS is not a high-volume/low-margin operation, but rather a company that wins projects and sustains customer relationships because of its reputation for quality and service.
Cable labeling and documentation are two key factors in keeping KTS top-of-mind among general contractors and end users, resulting in incremental work with existing customers as well as business referrals. "Taking the time to do the job properly with a complete documentation package, including quality labeling, accurate as-built prints, rack elevation drawings and test results, says a lot about your company," Kiester observed. "The print documentation we leave behind is essential to showcasing our work, because otherwise clients actually don't see much of it, since all of the cabling is in the walls and ceiling."
Kiester admits his company's reputation partially stems from his personal penchant for neat installations. "I'm really particular about how cables get tubed into a rack, how they break out into patch panels, and how they get terminated," he explained. "The tie-wraps must be evenly spaced and the labels have to be centered and evenly positioned on the faceplate. All of this has an impact on a project's success."
Kiester also believes that there is more to quality than simply wanting a clean look. Taking the proper approach to labeling and documentation can save customers considerable time and cost on future MAC work. "If there isn't a label on a jack, the customer has to hire a contractor to tone and trace before the port can be moved," he said. "Multiply that activity and its associated cost by hundreds or thousands of ports, and the troubleshooting investment can rack up quickly."
Beyond cost-savings, quality labeling and documentation can streamline problem-solving, especially when a customer uses its own labeling scheme. Having the site documentation gives the installer more control over the project and the best understanding of what needs to be done, so decisions can be made more quickly. "Everyone knows that labeling and documentation is important, but in truth, most companies don't have any idea what they have in their walls or under their floor, so he who holds the documentation holds the key," Kiester observed. "If there is an issue with the job, the person with the documentation usually comes out on top. More importantly, good site documentation can build trust with the customer, so you're more likely to get called back for incremental MAC work and new projects."
From chaos to efficiency
KTS recently completed a 900-wireless-access-point project for a Tampa-area regional hospital. When the installation firm did its initial site evaluation, it found that the hospital had no documentation about its telecommunications and data jacks. The hospital also was switching to a Voice over IP (VoIP) phone system and did not have an accurate inventory of available ports for the new system.
The access-point installation required KTS to document roughly 15 percent of the hospital's ports, so KTS suggested that it would be practical to go ahead and document the entire hospital. Based on the prior labeling and installation work KTS had done, the project scope grew to include seven floors of the main hospital building-which encompassed 37 communications closets-plus 15 remote building. In all, KTS performed tone, trace, re-labeling and documentation on more than 16,000 ports and 3,600 faceplates. Using the right labeling tool was essential to completing the expanded project while also maintaining KTS's strict quality standards. "Labeling and documentation go hand-in-hand, with each process feeding the other, so the label printer has to work seamlessly with a project database," Kiester advised.
KTS used Rhino 6000 label printers from Dymo Industrial for the labeling. Installers were able to connect the label printer to the database via a PC, so that information specific to the site scheme-such as port numbers and label specifications-could be downloaded directly to the tool. They were also able to use Dymo Industrial's preset templates for the site's panels and wall outlets, as well as the labeler's customizable shortcut keys that quickly produce serialized port numbers and other frequently used labels.
The Rhino printer also was instrumental in setting up a process for documenting the existing hospital datacom plant in a manner that eliminated confusion about which ports had been documented and which ones required work. "The original installation had a combination of handwritten labels and a few black-on-white printed labels, so we implemented a new color scheme with the Rhino labeler that used black-on-yellow labels to show each port that was labeled and documented in the site database," he said. Over the course of the five-month project, the color-coding approach made it easy for installers to find the undocumented ports-even when they could not access a room for several weeks or months. KTS also updated the CAD drawings of the site floor plans, and created current drawings for the seven floors of the main hospital plus the 15 remote buildings, with color coding of departments and areas for the entire cabling plant.
At the end of the installation, KTS was able to give the hospital both an updated CAD file and a PDF version of the cabling and port layout. "Today the hospital has the most complete and up-to-date floor plan and database it has ever had," Kiester remarked. "Now, if a department requires MAC work, we can print out that section of the floor plan, give it to the department nurse manager and ask how they want the new furniture or equipment layout to be arranged. We can immediately see if they have data ports in that area to accommodate the move or if we have to add additional cables and ports. Then we can quickly look at the cable scheme in the area and see exactly what needs to be done and give them an accurate quote."
Foundation for business growth
Looking down the road, Kiester sees upside in expanding KTS's capabilities beyond datacom to audio/video security and access control systems. He plans to bring the same passion for quality to those service offerings and job opportunities. "General contractors are looking for turnkey solutions, so if they find a subcontractor who can handle all types of low-voltage installations, and who has a reputation for doing it right every time, that firm stands a higher chance of winning the business."
Investing in the right tools and equipment can also impact growth potential, Kiester advised. "The tremendous support we get from the dedicated people at Dymo Industrial in teaching us how to leverage the latest product features and templates on our Rhino label printers to improve productivity and efficiency, and knowing these printers can handle any low-voltage job, is definitely a positive factor that will aid in our future expansion."
KTS's reputation for attention to detail in systems installation has often been the deciding factor in winning bids and getting referrals. Kiester's strategy has paid dividends in the form of long-term customer engagements and new business referrals. In fact, many KTS customers have done business with the installation firm for more than a decade. "For us, it's about building solid relationships with customers and building our business one project at a time," Kiester concludes.
Al Feaster, RCDD is national account manager for Dymo Industrial.
---
Best-in-class installations require the best tool for the job
Datacom installer Kirt Kiester of K-Tech Solutions believes in using label printers designed specifically for the low-voltage industry-and not to rely on general-use labelers. "Lower-end tools can have limited features and lifespan, and that limits how you approach the job," he explained. Kiester uses Rhino tools by Dymo Industrial exclusively for his jobs and advises everyone on the job to use the same labeling tool. "The best scenario is when everyone is on the same page, using the same tool, so that all of the panels, ports and plates are labeled consistently," he says.
These label-printer features are essential to performing a quality job.
• Easy-to-use software, with templates that are predesigned to work with major manufacturer patch panels and the ability to calibrate label spacing to the specific dimensions of a patch panel
• The ability to connect to the project database; site data can be downloaded directly to the tool
• A good, comfortable fit for the installer
• A rugged and durable build, because installation technicians can get rough with equipment in the field
• The right label material, with labels that stick and stay stuck despite the jobsite's environmental conditions