Software optimizes conduit bending
Greenlee says its BendWorks software program increases productivity, reduces scrap, decreases rework, and lowers inventory for conduit bending jobs.
Aug 3rd, 2015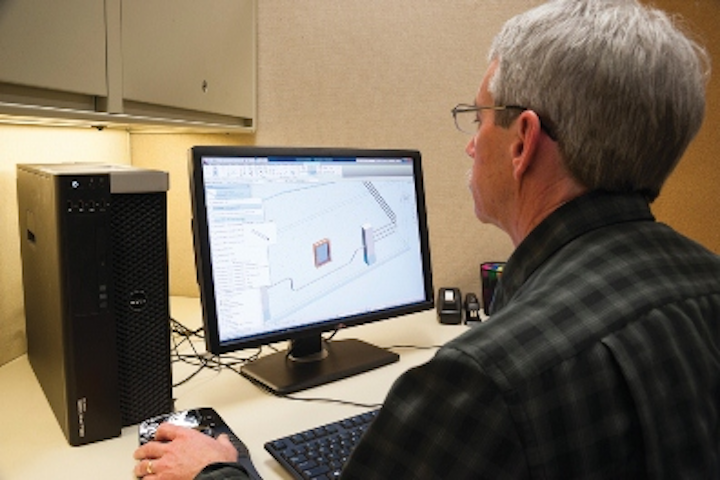 Greenlee added to its portfolio of conduit bending solutions when it introduced BendWorks, a software program available for Autodesk Revit and Revit MEP. The company says the program "helps designers optimize conduit runs more efficiently [by combining] electrical trade knowledge and Greenlee bending parameters to ensure error-free and export-ready conduit runs for prefabrication or on-site bending."
BendWorks' programming "splits conduit runs to produce the fewest cuts and segments, reducing scrap," Greenlee said. "The process continues as couplings are added to the models, and segments are uniquely labeled for traceability on the jobsite. Error-checking is performed for each conduit segment, and export data may be transferred to a programmable Greenlee bender, or instructional files can be printed for operators to have a step-by-step outline for non-programmable benders."
The company added that the software package offers an extensive toolset for CAD designers, allowing selection of various conduit types and sizes to create new runs or convert existing runs that automatically fit parameters specific to the following Greenlee benders: 555, 555C, 555CX, 555DX, 853, 854, 855, 854DX, 855GX, 881, 882, and the 1005 AutoBend 3D.
In its announcement introducing BendWorks, Greenlee estimated that applying the conduit bending software package will increase design productivity by 15 percent, reduce scrap by 15 percent, decrease rework by 25 percent, and lower inventory by 10 percent.
Greenlee has posted a BendWorks conduit bending software video on YouTube; the video can be viewed immediately below.