Installation system pushes fiber-optic cable at 600 feet per minute
Greenlee and Sherman+Reilly have teamed up to offer the ULTIMAZ Point-to-Point Hybrid Fiber Drop Installation system, which employs the CableJetting fiber-optic cable installation method.
Jun 8th, 2015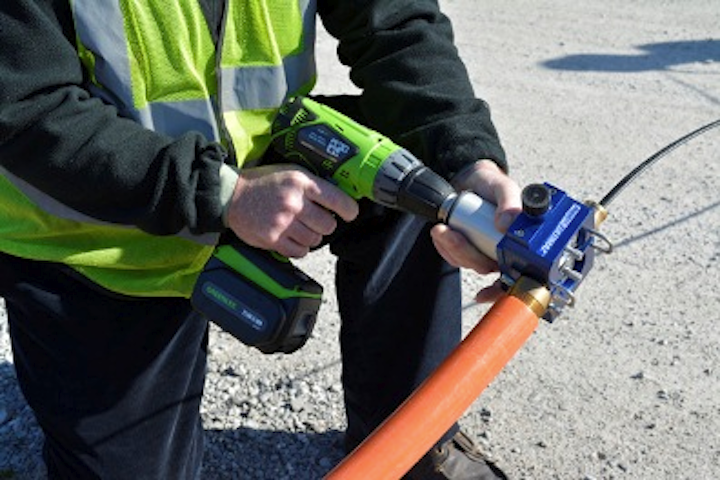 Greenlee and Sherman+Reilly, both Textron companies, jointly introduced the ULTIMAZ Point-to-Point Hybrid Fiber Drop Installation System. The companies describe ULTIMAZ as "a user-friendly solution used to install short sections of cables from 50 feet to 1,200 feet with ease."
It "offers a stress-free installation CableJetting method," the companies added, "that reduces the rate of damaged fiber-optic cable. Installation speeds of up to 600 feet per minute allow a six-times-faster rate compared to hand-pulling."
The installation device is available in a handheld (pictured above) or stand-mounted hybrid design that employs the jetting, or pushing, method. This method, Greenlee and Sherman+Reilly explained, "combines a low-strain pushing force with a high-speed air stream along the microcable surface for round or flat drop cables with outer diameters of 3.0 to 10.5 mm. Drops may be pushed via compressed air, or bottled air may be introduced into the system for longer distances. Although designed for drops, some cable-duct combinations can yield installation lengths near 3,000 feet."
The ULTIMAZ weighs 3 pounds, and the companies say its design reduces fatigue and injuries when compared to hand-pulling fiber-optic cable. The cable installs directly from the reel, so no pull lines are used. ULTIMAZ can be used to pull round and flat cables and is compatible with microducts from 10 to 188 mm in diameter. With the use of an insert, ULTIMAZ can be used with outside-plant ducts with 0.5-, 0.75-, 1-, and 1.25-inch inside diameters.