Stainless steel lashing wire
General Machine Products introduced three grades of the lashing wire that winds cable to a supporting messenger strand between poles.
Oct 2nd, 2015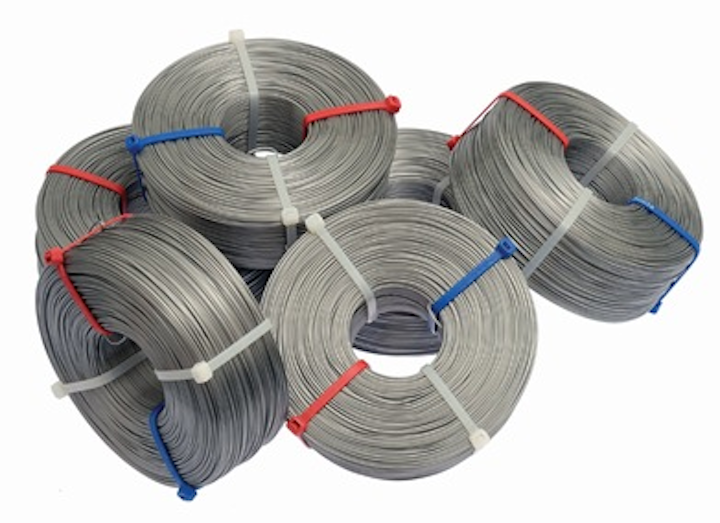 General Machine Products (GMP) recently introduced three grades of stainless steel lashing wire—used to spirally wind or "lash" telephone, multimedia or power cable to a supporting messenger strand between utility poles, the company explained. "GMP employs a specially controlled annealing process that produces a uniform, fine grain structure throughout the entire length and cross-section of its wire," the company said. "GMP Stainless Steel Lashing Wire is further enhanced by its unique wax formulation, applying jus the correct amount of wax coating on the wire."
The wax coating on lashing wire serves as a lubricant that ensures smooth lashing-machine performance, GMP noted. "Other suppliers may coat their wire with too much wax, whereby the lashing machine may become gummed up," the company said. "Not enough wax on the wire and the lasher will become hard to pull."
The stainless steel lashing wire is available in 1 mm (0.038 in), 1.1 mm (0.045 in), 1.5 mm (0.061 in), and 1.6 mm (0.065 in) wire diameters. Each is wound in a straight hub configuration to fit all of GMP's standard lashing machines.
The three grades of stainless steel wire are as follows.
Type 430—made of low carbon, 17% chromium wire. Suitable for general use and in ordinary atmospheric exposure. Type 430 Stainless acquires only a dark surface stain; it is not recommended for use within 25 miles of salt water or industrial operations that emit pollutants.
Type 302—made of 18% chromium and 8% nickel analysis wire. GMP stated it has excellent resistance to corrosion from industrial atmospheres and has higher tensile strength and breaking load than other options. A 0.038-inch-diameter Type 302 wire provides strength equal to a 0.045-inch Type 430 wire with easier bending and unwinding as well as better elongation, GMP said.
Type 316—made of a modified 18-10 analysis containing approximately 2.5% molybdenum. It is more resistant to the corrosive action of most chemicals, including chlorides and sulfides, than other wires are, according to GMP. The company adds this wire is particularly resistant to pitting and pin-hole corrosion commonly caused by salt spray. Type 316 Stainless provides the best insurance against failure under the most severe atmospheric conditions, GMP concluded.