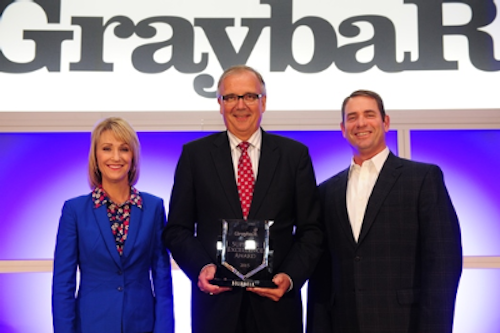 Image from left to right: Graybar Chairman, President and CEO Kathleen M. Mazzarella; Hubbell Chariman, President and CEO Dave Nord; Graybar Senior Vice President, Sales and Marketing, Bill Mansfield

Graybar presented Hubbell Incorporated with the Graybar Supplier Excellence Award at Graybar's National Training Conference, held in Indianapolis last week.

"We congratulate Hubbell Incorporated on being selected for the Graybar Supplier Excellence Award," said Kathleen M. Mazzarella, Graybar's chairman, president and CEO. "Hubbell's quality products and top-notch support allows us to serve our customers with ease and efficiency. We look forward to continuing to work to the advantage of our mutual customers."

The Graybar Supplier Excellence Award is presented semi-annually to recognize a product manufacturer that has collaborated with Graybar in an exceptional manner to successfully grow profitable business together. Hubbell Incorporated is an international manufacturer of quality electrical and electronic products for a broad range of non-residential and residential construction, industrial and utility applications, with corporate headquarters located in Shelton, CT.
Related news:Graybar appoints former Eaton, Hubbell exec to strategic accounts

"Graybar and Hubbell have enjoyed a terrific relationship for more than 120 years and our partnership is stronger today than ever before," commented Hubbell's chairman, president and CEO Dave Nord. "We pride ourselves in understanding Graybar's goals and objectives, and value the willingness to implement the appropriate strategies to help both organizations flourish. We thank Graybar for this recognition and for the support that we have received over the years, and we look forward to continued success for many more years to come."

Fortune 500 corporation Graybar is a specialist in the distribution of high quality electrical, communications and data networking products, and specializes in related supply chain management and logistics services. Through its network of more than 260 North American distribution facilities, the company stocks and sells power, networking and security products from thousands of manufacturers.