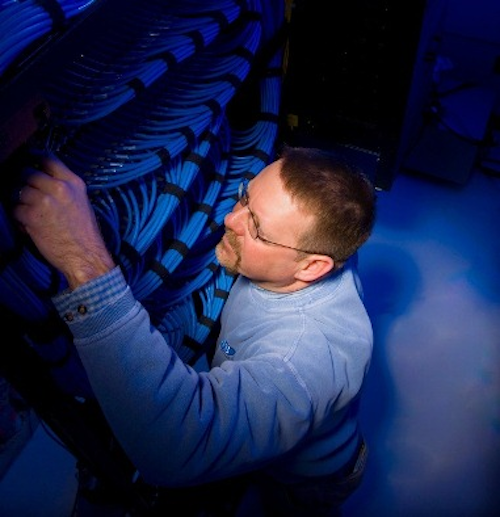 Cabling Installation & Maintenance recently announced the launch of the inaugural Cabling Innovators Awards program. "The purpose of this program is to publicly recognize some of the most innovative uses and applications of cabling technologies," the publication said. "The Cabling Innovators Awards program is meant to recognize ingenuity and innovation wherever it is found in the value chain of a cabling project. It was with purpose that we use the word 'Innovators' in the program's name, because our intent is to honor the people and organizations—innovators—whose efforts have produced real, valuable results. Innovators can include a product or system manufacturer, of course, but also a project's designer, installation contractor, ultimate end-user, and others."
Patrick McLaughlin, chief editor of Cabling Installation & Maintenance, commented, "On many occasions I have listened with admiration to stories about cabling and communication-system projects told by the principals involved in them. From the consolidation of data centers for state-government agencies, to the coordinated efforts required to provide services to a multi-site retail establishment, and many more, the accomplishments that professionals make on a regular basis are noteworthy. And we decided it is time to do just that—make note of them."
The program is being carried out in cooperation with BICSI. "We're extremely fortunate that BICSI is allowing us to use their Fall Conference, taking place September 21-24 in Las Vegas, as the venue in which we will present our inaugural Cabling Innovators Awards," Cabling Installation & Maintenance said.
A judging panel will evaluate nominations for a number of characteristics, including the following.
Innovative approach to project or system design and implementation
Value to the user, which can be measured by such qualities as return-on-investment, loss prevention, or business-efficiency gains
Sustainability, characterized by a project's overall eco-friendliness, its long-term value, lifecycle cost-effectiveness, or other measures
Meeting a defined need as a well-conceived, well-executed initiative that fully met specific user requirements
Collaboration, including communication and cooperation throughout the value chain through which the product or system was procured and deployed
Impact, which can be identified by describing the difference the project made on the professionals involved, on the productivity of its ultimate users, and/or on society as a whole.
Each nomination requires a submission fee, which Cabling Installation & Maintenance explains, "will defray the program's administrative costs."
McLaughlin continued, "It has been a long time coming for professionals in our industry to be recognized for the inventiveness, vision, and yes, innovation they bring to the jobsite, whatever that jobsite might be. We hope the industry will find the Cabling Innovators Awards a worthwhile program."
You can find more information on the program and its nomination process here.