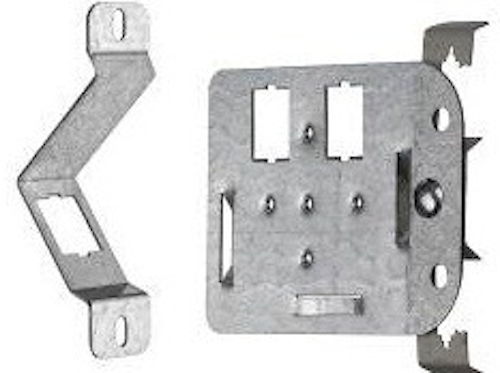 Leviton recently introduced brackets that support LAN connections for IP devices in environments where traditional wallplates are not practical. The QuickPort In-Wall (pictured at top of page, left) and In-Ceiling (pictured, right) Brackets "provide contractors and consultants with a location for a standards-based, testable permanent link for in-wall and in-ceiling connections to wireless access points, IP clocks, security cameras and other IP devices," the company said when announcing the products.
"In-Wall and In-Ceiling Brackets offer major advantages in commercial networks," said Mark Dearing, senior product manager at Leviton Network Solutions. "They provide a fixed location for terminating data connectors, creating a more-reliable connection than direct-connect plugs and reducing the possibility of damage during construction. Contractors can test and warrant the link right away, giving the end-user, customer or integrator the confidence that when the IP device is connected with a patch cord, it is going to work."
Leviton pointed to the following five capabilities of its In-Wall and In-Ceiling Brackets to emphasize the products' value.
They protect installed cabling by providing a stable mounting and termination point for any category-rated QuickPort connector.
In-Wall Brackets attach to standard electrical boxes, allowing the contractor to install and test the connection during initial installation. With the data connection recessed in the wall, the termination is protected throughout the rest of the process, and then during installation a short patch cord is used to make the final connection to the IP device.
In-Ceiling Brackets attach to drop ceiling hardware, allowing the installed cabling to be tested and warranted, even in a plenum space. With cable lances and Velcro brand tie-downs to hold slack cable, contractors can perform the initial installation and permanent link testing, while allowing the flexibility to move the bracket to refine WiFi coverage or WAN placement without needing to retest the link.
Plenum-rated QuickPort Surface-Mount Boxes attach to the In-Ceiling Brackets (pictured below), which protect the termination and provide strain relief. This combination, when used with plenum-rated patch cords and cable, creates the ideal system for air-handling spaces above a drop ceiling.
In-Ceiling Brackets support TIA TSB-162-A cabling guidelines for wireless access points, and will support the upcoming TIA-862-B Intelligent Building Systems cabling standard.
The new QuickPort Brackets, as well as Surface-Mount Boxes and Velcro brand products are available through Leviton's distribution network.
Find more information on QuickPort In-Wall and In-Ceiling Brackets.