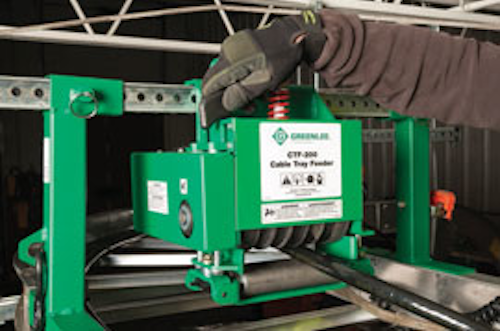 Greenlee's CTF-200 Cable Tray Feeder is "the first over-tray mounted, motorized cable tray feeding solution," the company says. "This allows users to safely pull electrical cables through the tray without their hands," Greenlee explains. "The feeder has the capacity to aid pulls with up to 200 pounds (90.7 kg) of force, and has an automatic force limiter that stalls out to prevent damage of the cable insulation."
View technical specs for Greenlee's CTF-200 Cable Tray Feeder.
View a product data sheet (PDF).

Download the product's instruction manual (PDF).
The over-tray mounting system sets up quickly and easily, the company says, using a patented design that includes a ratchet strap that safely and securely mounts to the tray. The CTF-200 can handle cable up to 2 inches (50.8 mm) in outer diameter and can be safely operated with a pendant that controls the feeder from up to 8 feet (2.4 meters) away, Greenlee notes. The CTF-200 Cable Tray Feeder can be accompanied by other Greenlee accessories, including the 660QA Quick Adjust Sheave, as well as the company's CTR100 and CTR200 Cable Rollers.