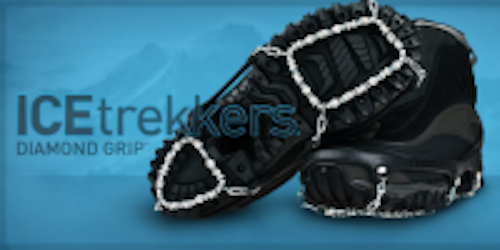 ICEtrekkers' Diamond Grips provide aggressive traction for all winter walking conditions; they are also effective when transitioning on foot through gravel, rock and mud from icy surfaces at the jobsite.

Made of case hardened steel alloy and strung on steel aircraft cable, the product's patented Diamond Beads have hundreds of biting edges that grip in all directions. The grips' bead assemblies are riveted to a tough rubber sling which remains elastic in subzero temperatures.

The Diamond Grips are easy to put on and remove from footwear, yet fit snugly and stay on feet without the need for additional straps. The grips are also self clearing, to deter snow or ice build-up.