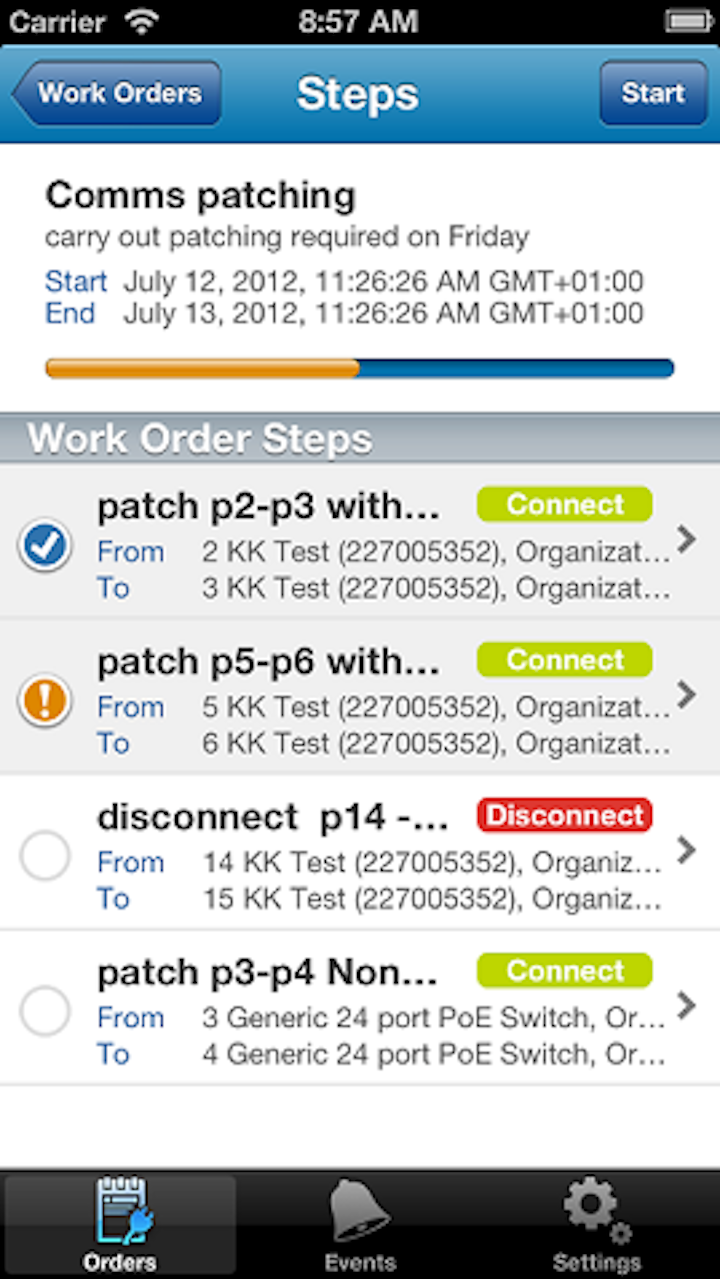 TE Connectivity (NYSE: TEL) has launched its Infrastructure Configuration Manager (ICM) mobile app for enabling tighter control of customers' physical networks and optimized network infrastructure management support. The ICM mobile app is a tool for use with an active ICM software system from TE; the app links to any ICM server to coordinate planned work orders and provide direct technician messaging and responses. Free for a limited time, the mobile app is now available on iTunes.

ICM is the software that powers TE's Managed Connectivity platform, designed to give network operators a higher level of visibility into their physical networks. The ICM platform provides a real-time, fully automated physical layer documentation system and a complete application for managing work orders, network topology, level two discovery, reporting and alarms.

Related: Intelligent management goes beyond the physical layer

According to the company, a recent Gartner Group study indicates that 59% of unplanned network downtime occurs in the physical layer -- and that 28% of data center outages are caused by human error, i.e. technicians mistakenly making changes in the network's physical layer. TE says that its Managed Connectivity platforms, including its ICM software and Quareo connection point identification (CPID) technology, have been engineered expressly for monitoring and managing the physical layer of network infrastructure. The ICM mobile app takes this technology to the next level -- optimized mobility for field technicians.

"The key differentiators for the TE Managed Connectivity offerings are first, the level of detailed information provided by the CPID technology, and second, the multiple technologies available to suit the need of a particular application," says Kevin Townend, senior development manager, ICM software solutions, at TE Enterprise Networks.

TE says that the ICM Mobile app, in conjunction with an active ICM system, provides an unprecedented level of management, detail and control for information transport systems (ITS) technicians. The app's features include:

-- Work Order Selection Listing
-- Work Order Synchronization
-- Work Order/LED Activation Controls
-- Work Order Step selector/manager
-- Auto-detect completion indicators
-- Manual completion indicators
-- Response attachment handling
-- Incident response logging

More: The top 6 data center physical layer best practices

"ICM mobile is a next generation tool for network infrastructure management," concludes Gene Malone, product manager, ICM software solutions, at TE Enterprise Networks. "Network managers have started to realize how important the physical layer is to the overall reliability and performance of their networks. And they have come to realize that there is little visibility into this layer. The ICM mobile app is a device-based tool that can provide an instant, real-time view of the network and render it transparent."

Learn more about the ICM mobile app from TE Connectivity.

Download the ICM mobile app from iTunes.