Butt set measures data, detects high line voltages
Platinum Tools' Recon Test Set boasts sophisticated in-line discovery and protection.
Mar 5th, 2013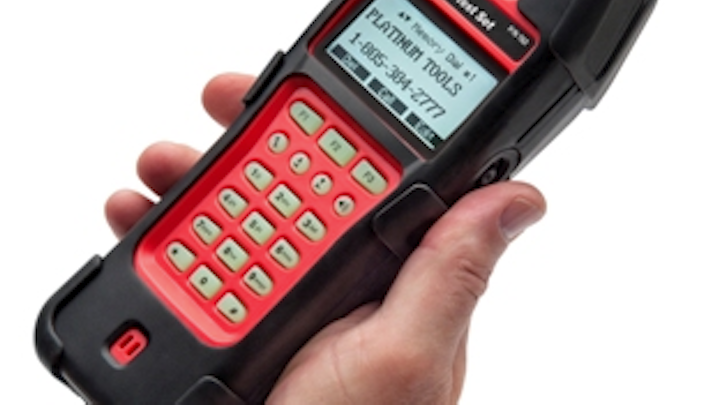 The Recon Test Set (T62) from Platinum Tools includes sophisticated data in-line discovery and protection, according to product manager John Phillips. "The T62 offers a complete menu for measuring data, actively monitoring and detection of high line voltages," Phillips said. "It also includes a Digi-Secure feature that protects digital lines from disruption by outside test equipment."
The company says that several others of the T62 Recon Test Set's features are unique among butt sets. "The large backlit display shows information clearly, and with a glow-in-the-dark keypad the unit can be used in low-light environments," Platinum says. "It is 100-percent weather and rainproof for outside use anytime."
The company lists the following among the T62's other specifications: bed-of-nails cordset; on-hook voltage and current measurements; off-hook current readings and polarity; caller ID/call-waiting caller ID and error detection; last number dialed; last number called or received; amplified line monitoring for volume level comparable to "off-hook" operations; soft key menu system; Data Defender to keep digital lines safe; detection and identification of DSL and T1 lines; eight-number-stored memory; DTMF decode; drop tested to 20 feet; multiple language options.