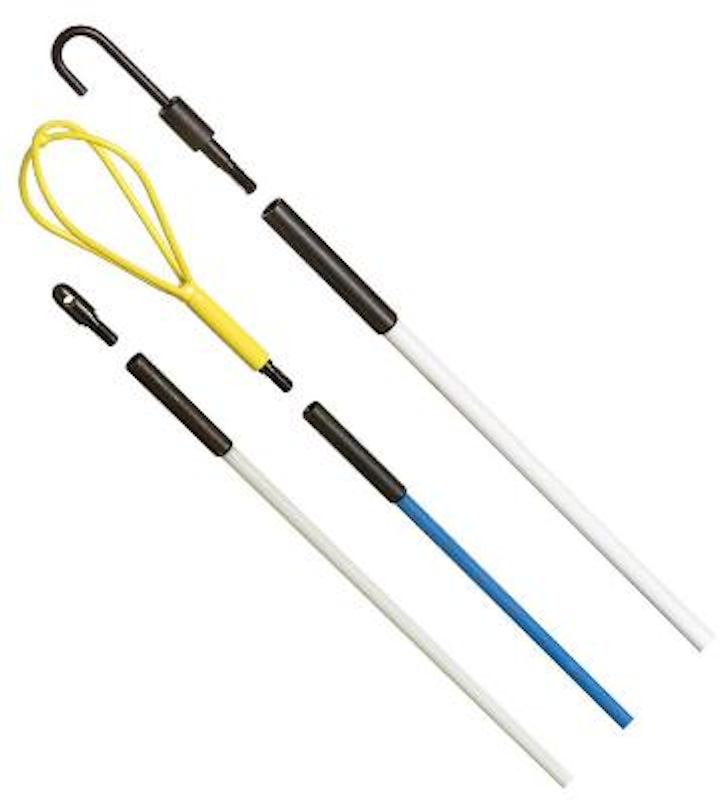 Ideal offers Tuff-Rod brand push/pull poles, made of nonconductive fiberglass rods, to ease the job of installingcables above ceilings, down walls, under raised floors or through hard-to-access voids and cavities, the company says. "Flexible yet strong, the poles can be used with a variety of cable and wire types, including speaker and telephone wire, twisted-pair data cables, fiber, thermostat, coax and general electrical cables," Ideal points out, adding that the use of these tools can "dramatically reduce time on the job."
Multiple Tuff-Rod poles can be threaded together to achieve a maximum length of 30 feet, the company says. Three attachments are available, and are pictured below. The J-Hook attachment aids in repositioning wires and redirecting cables. The Bullet tip is for pushing the rods through wall cavities, under floorboards and similar tight spaces. The Wisp head is designed for working over the top of suspended ceilings where the head enables the rod to be pushed over the gridwork's ridges without getting stuck.
Tuff-Rods are available in white and blue, as well as a pale green glow-in-the-dark version.
Separately, installers can purchase repair kits that include replacement hardware and quick-drying epoxy for in-the-field repairs.