Handheld floodlight allows cabling technicians to identify wire colors in dark rooms
140-lumen Pocket Floodlight is most effective at a range between 6 inches and 6 feet.
Sep 3rd, 2013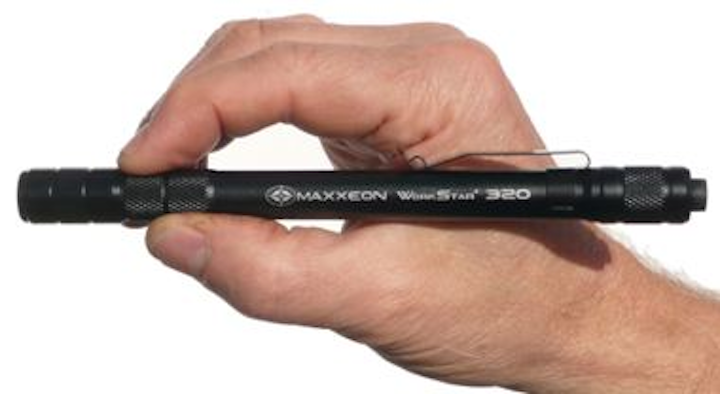 The WorkStar Pocket Floodlight from Maxxeon is available in three finishes: black type II anodizing, Realtree AP camo, and imitation carbon fiber. The LED-based handheld light produces 140 lumens of light, translating to an efficiency that the manufacturer describes as "over ten times the amount of light produced by an incandescent light bulb using the same current." Further, Maxxeon says, the wide-angle, floodlight-style beam pattern is completely clear and free from dark spots or hot spots. Combined with its intense white beam, the light's clear pattern makes it easy for a cabling technician working in a dark telecom room to plainly see an inspection area and distinguish colors such as those of twisted-pair conductors.
The light has been designed to be most effective at a range from 6 inches to 6 feet, the company adds, providing a beam pattern of about 4 feet at a 3-foot distance. The pen-style tool is compact, Maxxeon says, and lightweight. It clips into a pocket and is powered by three AAA batteries. The LED is rated for a service life of approximately 50,000 hours. The light's body is T6 aluminum and anodized black. The switch has a standard on/off operation. Models sell for $35 to $45, depending on the finish, at electrical- and industrial-supply stores.