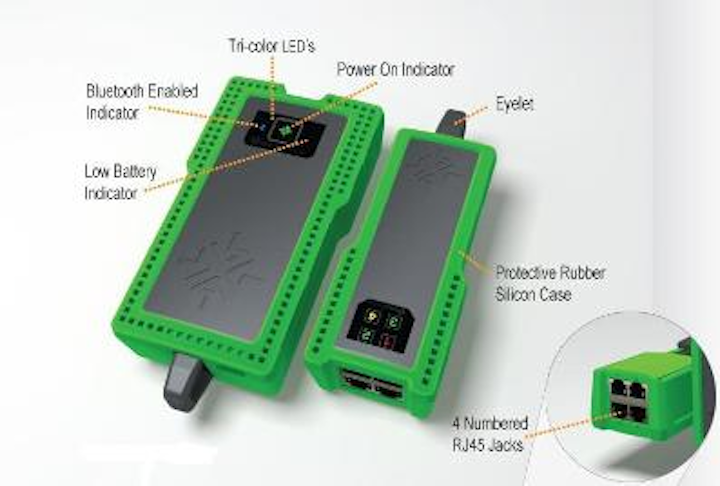 The concept of the WowClowd test solution was introduced at the BICSI Fall Conference, held in mid-September. Under development by Wow Insites, LLC, WowClowd is currently in beta. When brought to market, which the company expects to happen in the first quarter of 2014, the WowClowd tester will use a combination of the test technician's smart phone, an app for the phone, and cloud storage to provide access to test results, project-management tools and customer floor plans. "The phone app is able to initiate and run tests, allowing onsite technicians to view test progress and results in real-time on their smart phone," according to WowClowd vice president of product, Carey Gille.
The company further explains, "The free downloadable WowTester app pushes the data directly to the cloud, where floor plans, project progress and real-time results are collected, time-stamped, GPS-stamped, stored and backed up." The app is compatible with iPhones and Android devices. As a practical matter for technicians, neither the WowClowd tester's main unit nor its remote unit has a user interface. The testing, storage and reporting are driven entirely from the app. Additionally, the test unit does not store the results; they are stored immediately and directly in the cloud.
"The WowClowd solution will be an affordable product that will transform the wire and cable testing industry," Gille added. "This solution also optimizes client retention as clients will now receive test results on paper and at the cloud with full reports and floor plans, influencing them to return to the provider of this solution for future projects." She added that the tester's ease of portability is another asset. The main unit weighs approximately 12 ounces, and the remote about half that much. "Rather than cumbersome scroll buttons from letter-to-letter and test-to-test, technicians use the familiar and advanced interface of their smart phone," the company said. "The automatic transmission to the cloud allows project managers, supervisors and even clients to view project status and test results in real time. The direct feed to the cloud means data will not be lost accidentally when testers are shared, misplaced or stolen."
WowClowd supports unshielded and various forms of shielded cable in Category 3, 5, 5e and 6 performance levels. The tester conducts the following tests, according to Wow Insites.
Complete cable mapping including shield continuity and shorting
Length and cable type
Ping
Distance to fault
Trace route
Speed testing
Network scan
Delay skew
IPV4/IPV6
PoE/PoE Plus detection
Return loss analysis—specifies actual distance to impedance mismatch
WowClowd is looking for beta partners to preview the product before it comes to market. You can visit the WowClowd website here, and visit this page in particular if you are interested in beta testing the system.