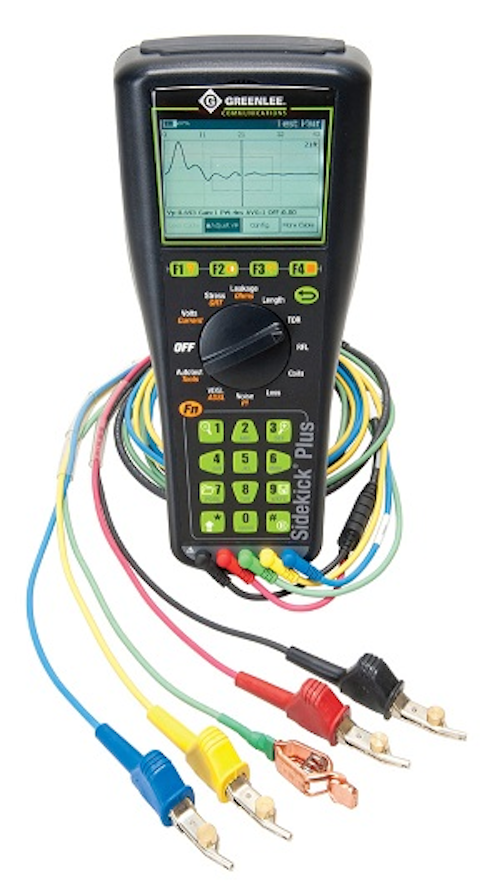 Greenlee Communications has announced "a major update" to its Sidekick Plus line of multifunction test sets. In addition to the standard selection of copper cable testing tools, new options are now available for Step TDR, Wideband Analysis, and ADSL/VDSL Sync and Service testing, according to the company.

The new suite of ADSL/VDSL tests displays features such as DSL Showtime, Bits to Tone, Signal-to-Noise Ratio, and Upper Layer Testing (Ping, Traceroute, HTTP, and FTP). The ADSL/VDSL-equipped unit also features a full range of wideband tests and a step TDR to enable technicians to diagnose a wide variety of problems in copper-cable based communications networks.

"Our customers wanted an easy-to-use, feature-rich tester for their field technicians, and that's what they found with the original Tempo Sidekick unit," comments Roger Clitheroe, global sales director for Greenlee Communications. "The new Greenlee Communications Sidekick Plus reintroduces the multi-functional tester and provides new ADSL/VDSL features for today's modern communications technicians."

Rather than a complicated menu system, all main features are accessed on the Sidekick via a rotating mode selection dial. Easy set-up allows for a quick learning curve and lower downtime, as users can quickly select and familiarize themselves with the new features, contends Greenlee.

Target applications for the Sidekick Plus Multifunction Tester range from CATV, railways, government/military, and those who need to install or maintain a copper-based communications network.