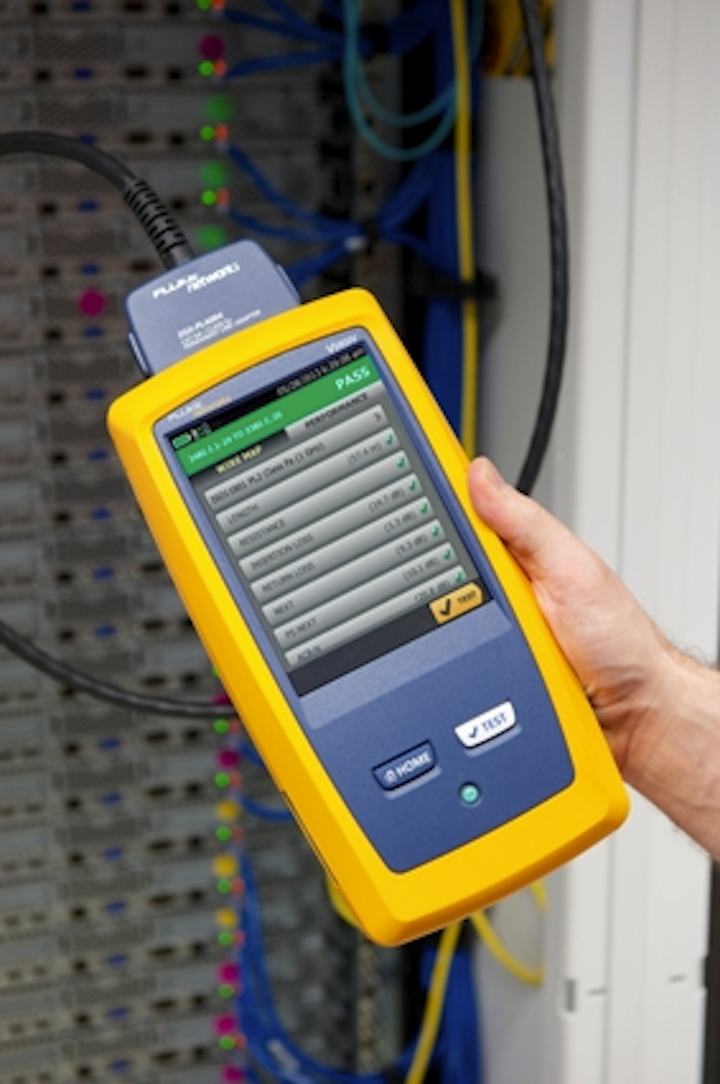 The Versiv family of cable certification testers from Fluke Networks is "designed to help data communications cable installers more quickly, accurately and profitably achieve system acceptance for copper and fiber jobs," the company says. A key component to enabling this more-rapid system acceptance is a software set built into the test platform called the ProjX management system, which will be described herein.
Versiv can be viewed as a platform, with a common chassis and interchangeable test modules for different copper- and fiber-test functions and capabilities. Depending on the test function, main and remote chassis or just a main chassis may be used. As depicted in the photographs accompanying this article, the chassis has few buttons. Versiv incorporates a user interface called Taptive, which is similar to the smartphone-like user interface Fluke Networks incorporated into its OptiFiber Pro tester in 2012. Described as an intuitive touch screen, the Taptive interface can elevate the capabilities of the tester's users, including less-experienced installers. Taptive allows users to drill down to test-result details with finger touches. It also delivers graphical depictions of those results.
As it launches the Versiv platform, Fluke Networks is emphasizing its ability to save installers time, ensure accuracy and increase installer profitability during system acceptance. "In a global study of cabling professionals, mistakes, complexity and rework are adding more than a week of labor to a typical 1,000-cabling-drop installation," the company said, "resulting in average losses of more than $2,500 USD. To combat these growing challenges, Versiv has been built from the ground up to go beyond testing and troubleshooting to address the entire certification lifecycle. Its new capabilities help contractors manage the complexities of today's certification landscape and reduce errors that can threaten profitability."
The software-based ProjX management system allows a cabling crew's team leader to set up test parameters that work across multiple jobs and media. It also speeds up the planning and setup of projects by allowing technicians to capture consistent test parameters across an entire job, or to switch from job to job by clicking between projects stored in the tester. "The system allows up-to-the-minute project analysis and oversight to help speed certification and reporting," Fluke Networks says. "If problems are encountered during the testing process, technicians can create a 'Fix Later' troubleshooting to-do list for later evaluation by more-experienced installers."
Jason Wilbur, vice president and general manager of Fluke Networks' data-communications cabling installation business, commented, "When doing cabling installation and certification, the difference between having a job be profitable versus a loss is oftentimes just a few percentage points. In 2004 we defined the certification market with the introduction of the DTX, which was focused on certification testing speed. But today's challenges have changed and our customers must improve their agility and reduce errors when working across multiple mediums, codes and projects. The Versiv family is focused on helping our contractors profitably manage the complexities that are now part of their new normal."
Wilbur elaborated on that concept in an interview with Cabling Installation & Maintenance. He explained, "Today's contractors have to deal with a number of multiples—multiple projects being handled simultaneously, multiple types of infrastructure, multiple industry standards, multiple varieties of tools used for reporting, and multiple complex measurements being made."
With so many proverbial moving parts, the project scheduling, deployment and commissioning processes are prone to error. And when errors occur, they negatively impact the project's profitability for the contractor. Hence the emphasis Fluke Networks is placing on this new testing platform's ability to simplify the complex, thereby significantly limiting any project's susceptibility to error. (In a white paper, Fluke Networks outlines results of its own research into the frequency of errors among contractors around the globe, and the impact of those errors on business profitability. We intend to provide detail on these findings in a future issue.)
The Versiv platform comprises four test solutions, two of which already exist in Fluke Networks' portfolio and two of which are new. The company's existing OptiFiber Pro and OneTouch AT test products now exist in the form of modules for Versiv. Additionally, the platform includes new testers CertiFiber Pro Plus, an optical-loss test set (OLTS) and DSX 5000 CableAnalyzer, Fluke Networks' next-generation copper-cabling test instrument.
A key capability of Versiv's fiber-test functions is the Set Reference Wizard, which automatically zeroes out the reference cords—saving installers the burden and potential confusion of having to do so.
The DSX-5000 is a 1-GHz test instrument that meets the proposed ISO Level V accuracy specifications, enabling it to certify Level FA (Category 7A) cabling systems. The tester's characteristics also include a 10-second Category 6A test, as well as the ability to test a system's balance.
More detail is sure to follow from Fluke Networks about each test module's particular capabilities. The overarching theme of the company's Versiv release is that any or all of these tester types (OLTS, OTDR, network assistance, copper-cabling certifier) can be used interchangeably within the Versiv chassis. That, along with the software-based test-reporting and project-management functions, provides a simple and flexible tool that can drive down errors and positively impact a contractor's bottom line, Fluke Networks says.