ABB Low Voltage upgrades thermal transfer label printers
Product line upgrades include simplified installation and operational systems.
Dec 2nd, 2013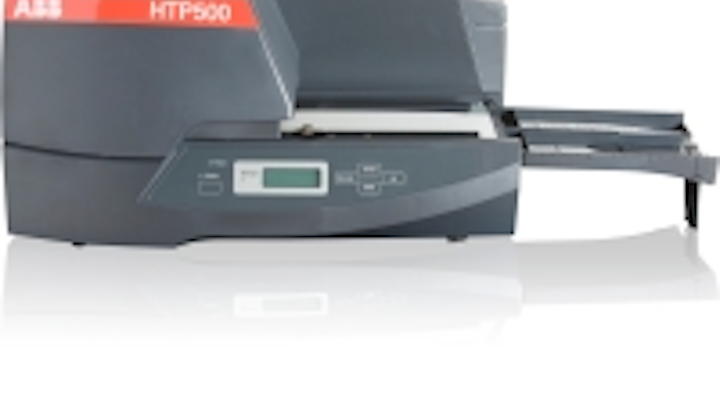 ABB Low Voltage Products (New Berlin, WI) has upgraded and expanded its series of high resolution thermal transfer printers and markers designed for producing high quality identification markings for terminal blocks, wires, cables and other equipment housed in electrical panels.

The expanded product range features the second generation HTP500 V2 printer, upgraded with simplified installation and operational systems, and a 25% increase in speed, now able to print 8,500 markers per hour in automatic mode. New to the product line is the MG3, a compact, versatile printer that can be used in the workshop and easily transported into the field. A full line of plastic markers and adhesive labels is also available for both the HTP500 V2 and MG3 printers, covering the identification requirements for virtually all terminal block and electrical panel equipment components.

"The HTP500 V2 and the MG3 are great additions to ABB's marking solutions lineup. They offer high quality printing and the flexibility to mark almost any electrical component," said Carolyn Johnson, ABB product group manager, connection and EPR products. "The printing is extremely fast and requires no drying time, perfect for marking components in high volume applications. The wide variety of markers available gives ABB one of the broadest thermal printing portfolios in the market."

See also: ABB turns up DC-powered data center

The HTP500 V2 is designed for high volume, serial printing of plastic markers for ABB terminal blocks, wires and cables. An automated stack feeder accommodates up to 64 plastic marker cards at a time, increasing operational convenience while printing 8,500 markers per hour in automatic mode. A built-in, completely plug-and-play USB port has simplified installation, providing immediate recognition and access to driver installations, preconfigured settings, and a more intuitive media library.

The compact, versatile MG3 can print plastic markers and adhesive labels for components made by ABB and other manufacturers, including terminal blocks, wires, cables, circuit breakers, relays, PLCs and contactors. A simple and intuitive PC based marker design software requires only basic computer skills to operate, and facilitates easy data entry and dynamic previewing to assure accurate marker printing. The portable design (382 x 230 x 230mm) accommodates use in crowded workshops or in the field, and the 12-second print cycle and 300,000 marker per-ink-ribbon capacity provides the ultimate in efficiency.

Source: Utility Products

More news: Power protection devices from ABB safeguard industrial, data center environments