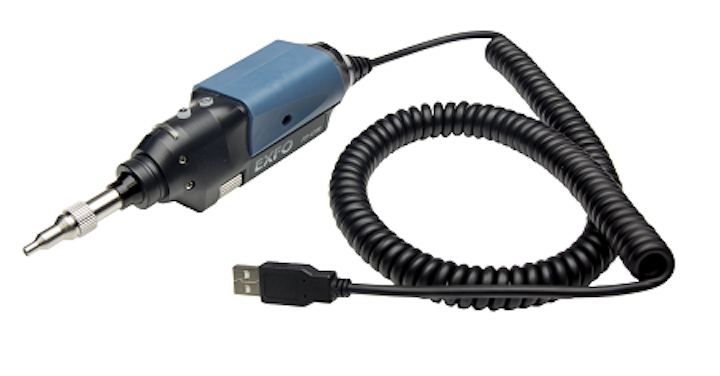 Exfo Inc. (NASDAQ: EXFO) has announced the release of its FIP-400B, a fiber inspection probe designed to provide crisp, digital images of optical connectors at three levels of magnification. As a complementary tool for any fiber tester, the FIP-400B fiber inspection probe simplifies the inspection process and speeds up connector certification time by up to 57%, claims the company, securing the network from issues related to dirty or damaged connectors.

Featuring an ergonomic patent-pending design, the FIP-400B probe is optimized for easy handling by both left- and right-handed users. Built to simplify and speed up the inspection process, the FIP-400B integrates advanced automated features, such as a high-performance, fiber image-centering system that eliminates the labor intensive step of localizing the fiber in the image. The FIP-400B also includes Exfo's ConnectorMax2, an onboard connector-endface pass/fail analysis application based on IEC or custom standards to deliver accurate and repeatable connector certification in seconds. It is also equipped with a LED indicator located on the probe to provide users with an immediate health pass/fail verdict for the connector under test.

Related product: High-definition fiber-inspection probe connects to smartphone, tablet

Because fiber inspection tools are now an essential part of every fiber technician's toolbox, Exfo is concurrently releasing its MAX-FIP Intelligent Connector and Fiber Certifier. The MAX-FIP is a rugged and compact, tablet-inspired stand-alone display kit integrating the FIP-400B Fiber Inspection Probe and ConnectorMax2 analysis software, an optical power meter for power and loss testing, and a visual fault locator (VFL) to effectively test and troubleshoot any type of optical network. The MAX-FIP's bright, 7 inch touchscreen offers the best magnification level available from a portable probe display, claims Exfo, and its eight-hour rechargeable Li-ion battery provides enough power to tackle a full day of inspection (e.g., FTTH cabinet installation). In addition, the MAX-FIP offers extensive data storage, enough for thousands of high-resolution inspection results.

"Customers are looking for easy-to-operate solutions that will save them time while ensuring optimal network performances," comments Étienne Gagnon, Exfo's vice-president, Physical Layer and Wireless Division. "The FIP 400B's auto centering feature greatly reduces inspection time by eliminating the hassle associated with fiber-image centering, while its automatic analysis capability removes any risk of misinterpretation-leading to faster, more accurate and more consistent results."

This new FIP-400B family of USB inspection probes is compatible with any PC or laptop, the entire range of Exfo's FTB Ecosystem platforms, and the company's newly launched MaxTester 700B OTDR series. More information is available here.

More news: AFL adds inspection, loss testing to field fiber connector cleaning kits