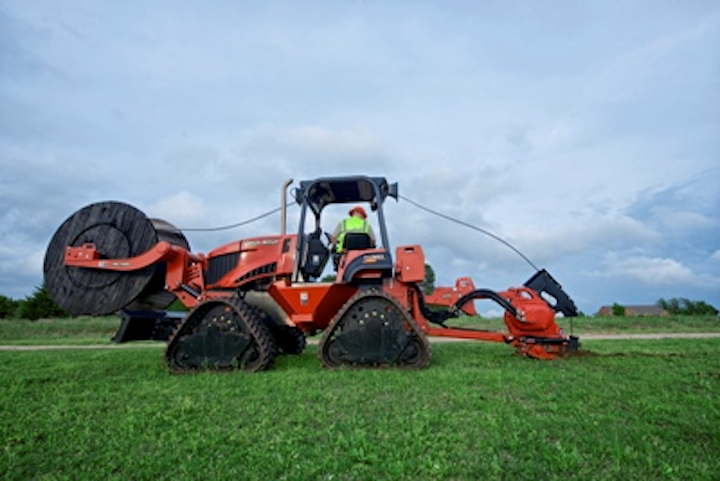 The RT120 Quad tractor from Ditch Witch has "the power, heavy-duty frame and traction necessary for long installations of large-diameter pipe on the most challenging jobsites," the company says. Ditch Witch adds that the tractor "is built around an exceptionally heavy-duty undercarriage designed to withstand punishing ground conditions." The frame is made to tilt, which enables the RT120 Quad to dig a vertical trench on uneven ground in outside-plant installations.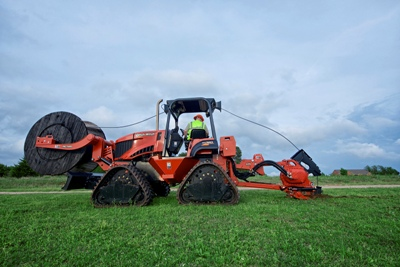 The quad-track system upon which the tractor rides provides stability and traction, the company says. Each track frame weighs 1,500 pounds—including the track—which gives the machine a low center of gravity thereby increasing stability and drawbar. Also, "The chevron-pattern tracks provide maximum traction in wet conditions and on slopes," Ditch Witch says. Its 15.5-inch ground clearance enables it to work successfully around bar ditches, creek beds and uneven terrain, the company notes.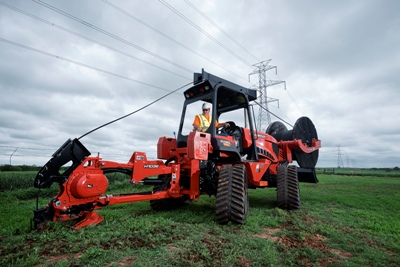 Available attachments for the RT120 Quad include a combination trencher/plow, an individual plow, a back hoe, a reel carrier (shown in photos), and two types of trenchers.