Punchdown tool has built-in hook to feed or remove wire
Platinum Tools' Pro-Strike is spring-loaded and can be used on 110, 66, Krone and BIX blocks.
Oct 2nd, 2013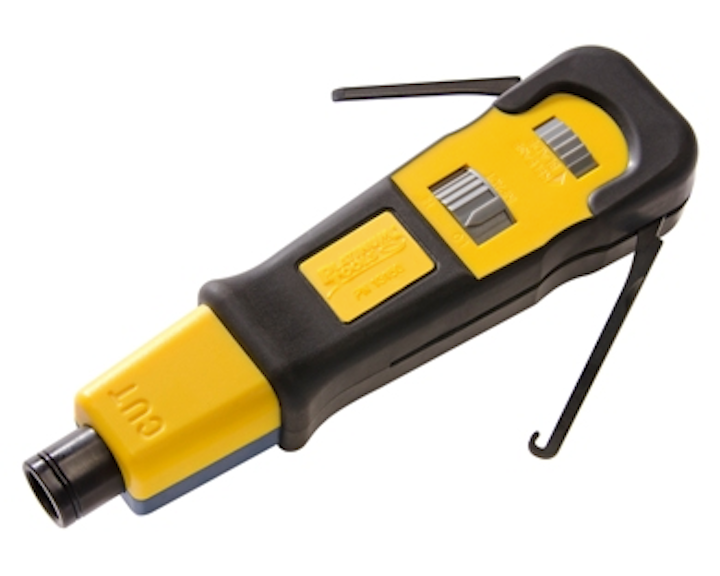 The Pro-Strike Punchdown Tool from Platinum Tools is a compact tool that "combines rugged design, an ergonomic comfort grip handle and enhanced functions," according to John Phillips, product manager with Platinum Tools. "The primary tool for all telecom and datacom installers working with 110, 66, Krone and BIX-style crossconnects, this professional tool will provide precise, repeatable and reliable terminations that helps ensure installations pass certification, thus reducing and eliminating callbacks, resulting in peace-of-mind."
The Pro-Strike terminates and cuts Category 3, 5, 5e and 6 cables; it is spring-loaded for fast, low-effort wire seating and terminations, Platinum Tools says. The company adds that the tool's bayonet-style blade-retention socket is compatible with industry standard tools and blades.
The punchdown includes a built-in hook that can be used to feed or remove wire. It also includes a "multi-use spudger," the company explains, "for screwdriver, IDC insert tool or to clean debris."
Platinum Tools also lists the following features of the Pro-Strike Punchdown Tool.
110, 66, 630 Krone and BIX style interchangeable blades
Terminate and trim wires in 66, 110, Krone and BIX style crossconnect blocks
Terminate and trim wires in 110 and 630 style wall-jack modules
Color-coded yellow on cut side
Adjustable low- and high-force impact settings controlled to meet industry standard 8762D spec
Will not damage sensitive circuitry
Spare blade storage compartment in the handle
6x1.5x1-inch dimensions
5.7 oz. weight
The tool has an MSRP of $36.95 without blades.