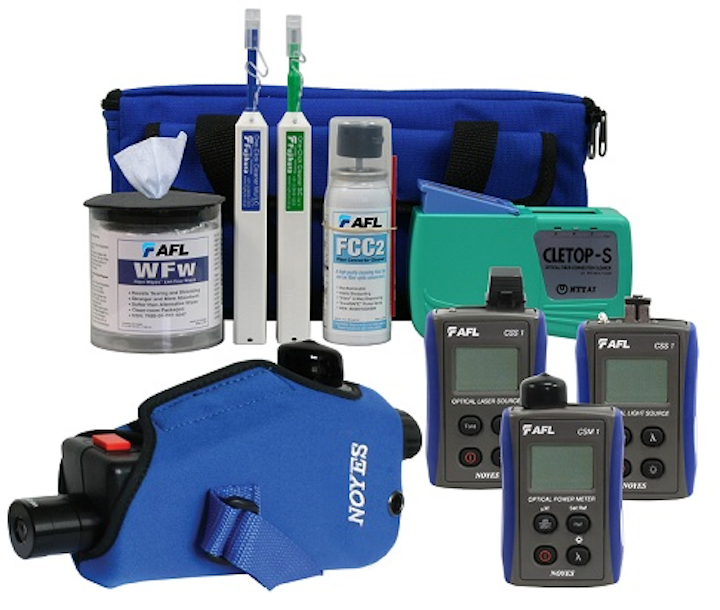 AFL has enhanced its Noyes FCP2 Field Portable Cleaning Kits by adding fiber-optic connector inspection and loss testing capabilities including an inspection scope, power meter and light sources. The cleaning kits bundle several cleaning products into one convenient duffle bag-style carrying case to create a complete system for field cleaning of connector end-faces.

With the addition of the OFS 300-200 inspection scope, CSM1-2 Contractor Series power meter, CSS1-MM Contractor Series multimode light source and the CSS1-SM single-mode light source as options, the FCP2 kits now give technicians the ability to inspect and verify their work.

Related: Achieving IEC standard compliance for fiber-optic connector quality

The FCP2 Basic Cleaning Kits are ideal for field usage and now include the following elements/options:
• The FCC2 Fiber Connector Cleaner, a nonflammable, environmentally-safe, residue-free solvent specifically engineered to clean the end-face of connectors.
• AFL's One-Click Cleaners, a simple push-action cleaning tool for effectively cleaning connectors on jumpers and in adapters.
• The company's FiberWipes, used to remove and trap common contaminants found in fiber-optic installations (can be used dry or with AFL's FCC2 solvent for wet cleaning).
• The Cletop Cassette Cleaner, a rugged palm-size cleaner with anti-static properties that minimizes re-attachment of dust to ferrule after cleaning.
• Convenient duffle bag-style carrying case with room to add supplementary cleaning supplies, inspection scopes or test equipment.
• MPO/MTP Option: Basic cleaning kit plus MPO/MTP cleaner.
• Inspection Option: Basic cleaning kit plus OFS300-200 scope.
• Inspection and Loss Test Kit Option: Basic cleaning kit plus OFS 300-200 scope, CSM1-2 power meter, CSS1-MM light source and the CSS1-SM light source.

Contaminants such as dirt, dust and other particles from the environment can impede signals, cause costly network failures and increase downtime. AFL says its cleaning products effectively remove these contaminants and particles for consistent cleaning results every time, saving users time and money.

"Technicians need a kit with a variety of cleaning tools that can be easily carried in the field," explains Kevin Haddock, product manager for AFL's Test and Inspection division. "AFL responded to customer requests and expanded the kit options so customers can now order the basic cleaning kit, cleaning kit refills, basic kit with MPO/MTP option, or inspection and loss test kit options."