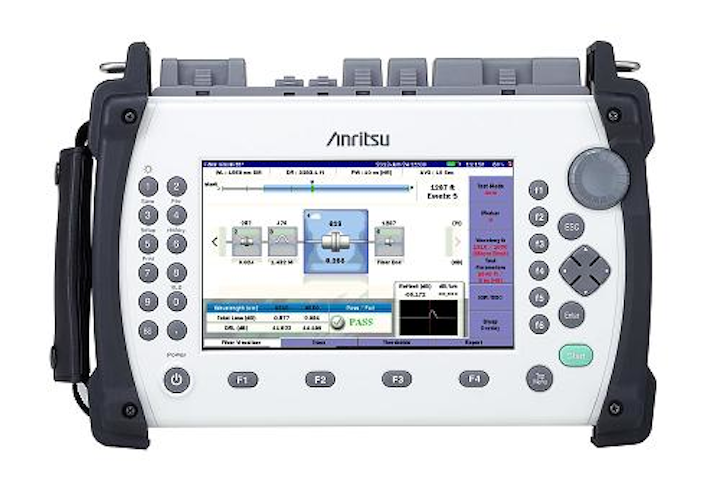 Anritsu has introduced its Fiber Visualizer, an new tool designed to more easily allow field technicians to conduct highly accurate measurements of fiber cables, connections, and splices when installing and maintaining high-speed optical fiber networks.

Developed for use with the company's MT9083x2 ACCESS Master OTDR, Fiber Visualizer streamlines the fiber testing process by automatically selecting the correct testing parameters, analyzing the data, and providing a clear PASS/FAIL summary that allows users to test like an expert regardless of their experience. Fiber Visualizer easily guides the user through each step of the optical fiber testing process, including parameter selection, trace acquisition, event analysis, PASS/FAIL acceptance, and report generation.

More news: Technical paper: Testing 100G transport networks

A graphical summary of the entire fiber, along with the corresponding event from the OTDR trace, is presented when testing is complete to provide users with an unmatched level of visibility into the fiber span. Tabs allow users to quickly toggle between the icon-based graphical summary and OTDR trace, as well as to easily generate a comprehensive customized PDF report of the results.

Integration of Fiber Visualizer into the MT9083x2 enhances the performance and ease-of-use of the ACCESS Master. Featuring a high dynamic range of 46 dB, quick data acquisition, and dead zone of <1 m, the MT9083x2 is an all-in-one solution that can reduce test times during installation and maintenance of FTTx, CATV, LAN, Access, Mobile and Metro networks, claims the company.

The unit's large, 7-inch, high-resolution (800 x 480) display with LED backlight makes it easy to see results in the field. A long 12-hour battery life, light weight (5.7 lbs.), and wide operating temperature range of -10° to 50° C all make the tool especially suitable for regular field use. To learn more visit www.anritsu.com.

See also: 10 mistakes to avoid when commissioning a data center