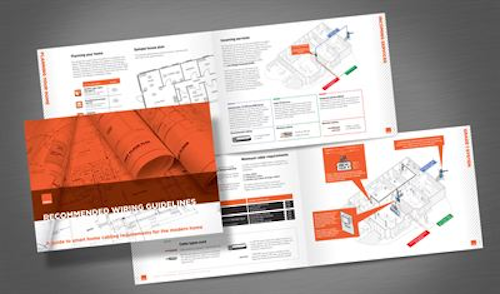 CEDIA, the Custom Electronic Design and Installation Association, has released a document titled "Recommended Wiring Guidelines" outlining the types of cabling infrastructure necessary to support the technology typically required for the modern home, the association says.
"This new publication provides a useful and practical step-by-step guide," CEDIA says. "It identifies the key requiremets for an installation and defines three grades of recommended cabling infrastructure. These guidelines also create a business opportunity for CEDIA EST 2-certified members who can qualify as a CEDIA Structured Cabling Assessor and provide independent verification and testing for developers and consumers that a cabling infrastructure has been correctly designed and installed."
CEDIA describes the capabilities of the three grades of cabling infrastructure as follows.
Grade 1 will ensure the effective and reliable delivery of Internet services, home networking, TV, satellite, radio, telephone, conferencing and other entertainment services to most rooms in the house.
A Grade 2 installation will additionally provide the capability for whole-home distribution of audio-visual content using discrete in-ceiling speakers and in-wall control points.
With a Grade 3 infrastructure, functionality is further extended to embrace lighting control, motorized curtains and blinds, access-control systems, CCTV networks, environmental and heating control, as well as systems that allow these technologies to be controlled and integrated by a single control system using in-wall controls and handheld remote devices.
The set of guidelines includes explanatory diagrams and illustrates a staged process for installation. It outlines the incoming services as well as the planning, cabling and testing essentials that should be followed for each grade.
Matt Dodd, CEDIA education chair, commented, "This document provides the essential guidance that's needed on wiring to support today's digital and connected lifestyles. These guidelines provide best-practice advice for all involved in the residential custom installation sector, and will also help specifiers and developers make the right choices at an early design stage.
"The most expensive cable that can be installed is the one that did not get fitted in the first place," he added. "Mistakes can be costly, so it is vital to get the cabling infrastructure correct the first time around."
The "Recommended Wiring Guidelines" publication can be downloaded for free here.