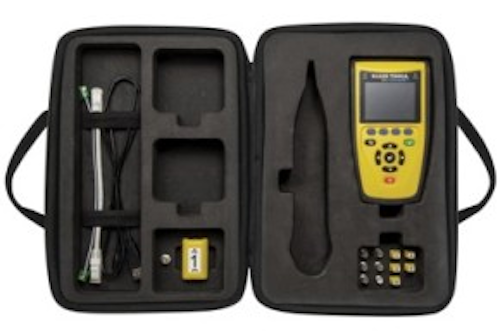 The Commander Series testers—available from Klein Tools in two different kit options—is "a high-end product" that has "extensive cable-testing capabilities, TDR technology for distance-to-a-fault measurement, Power over Ethernet detection and testing, link status and capabilities, as well as report management functionality," the company said when announcing its introduction. "With one tool, professionals can confidently determine the status of each wire in a data, PoE or communications/video system."
The company added that the series is made specifically for testing coaxial, network (RJ45-based) and telephone (RJ11-based) cabling circuits. The two different kit options are the Commander Test Kit and the Commander Test and Tone Kit (each pictured).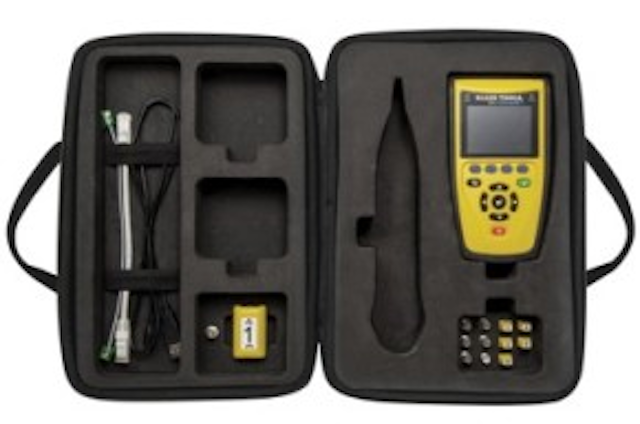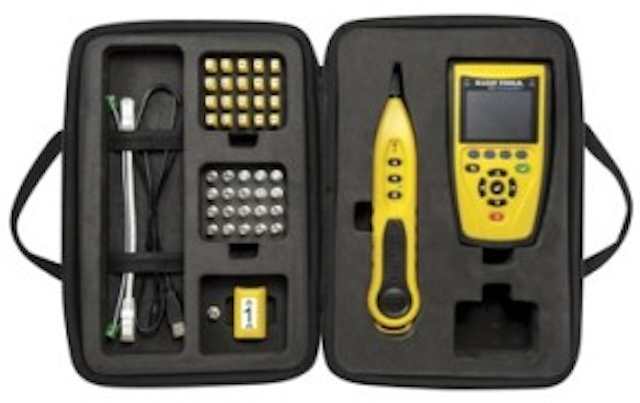 The tester can identify wire faults including miswire, open, short, split pair and reverse pair, and can verify shielding. It also conducts wiremap and displays the map in color per the TIA568A/B spec. The tester's TDR capability enables it to measure cable length as well as distance-to-fault; Commander also has the ability to detect, identify and test PoE.
For RJ45-terminated circuits as well as coaxial circuits, the tester can locate and identify cables with "Location ID" remotes. Its Test-n-Map ID Remote capability enables it to test and identify location in one step for RJ45- and RJ11-terminated runs, Klein Tools explains. The Link Light feature allows users to identify a hub or switch, or visually locate cable runs. The tone generator traces cables, wire pairs and individual conductor wires. The Commander also can perform active Ethernet testing to detect link speeds and capabilities. Up to 256 cable or network tests can be saved, exported and printed.
Chris Niklas, product manager with Klein Tools, said, "Our customers were looking for a comprehensive product that included all the necessary tests and functions to complete a high-end voice/data/video installation, without the big price tag of a 'certifier.' Klein Tools' new Commander Series has complete cable-testing capabilities, accurate cable measurements, PoE detection, cable location and ID, tone generator, Link Light, active network testing, and even more room for hundreds of test reports."