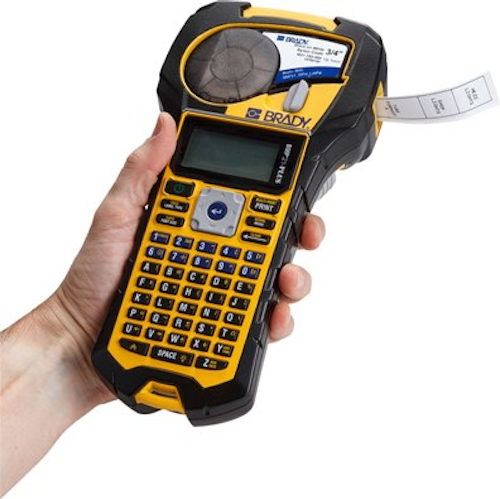 Brady has released the BMP21-PLUS handheld label printer, which the company says "combines a tough exterior with smart printing capabilities for wires and cables, terminal blocks, patch panels, flat surfaces and more." The labeler's shape has been re-engineered to improve durability and ergonomic performance; improvements include a center balance and ridges that assist gripping and handling. The yellow and black colors, as well as rubber bumpers, give the printer visibility on the jobsite, the company noted. The BMP21-PLUS has passed shock and vibration testing per MIL-STD-810G Method 5.16 S4.6.5, Brady added.
"The printer features a new lithium-ion long-life battery, a large backlit LCD display and a graphics library with 104 symbols," the company announced. "It also has automatic label formatting for nine common applications, including wire markers and patch panels, allowing users to simply drop in a label cartridge and begin printing—no setup required." It also features expanded material color and size options beyond those available on the original BMP21, "including 70 highly engineered material parts on 0.25- to 0.75-inch-wide continuous label formats," Brady said. "Once the label is printed and cut, the grabber feature holds onto the label and prevents it from falling out and onto the ground." The BMP21 is now discontinued, replaced by the BMP21-PLUS. Accessories and supply cartridges for the BMP21 printer will work with the BMP21-PLUS.
Available accessories include a heavy-duty magnet accessory for the convenience of hands-free printing, and a multifunctional accessory with magnet, flashlight and retractable printer stand.
Matt Luger, product marketing specialist with Brady, commented, "It improves your labeling experience by bringing together the brains and the brawn needed to take on the day-to-day rigors of any job. The structural integrity and wide range of printing capabilities alone make the BMP21-PLUS printer a standout. Plus, when you add in its attractive entry-level price point, the printer becomes too good to pass up."