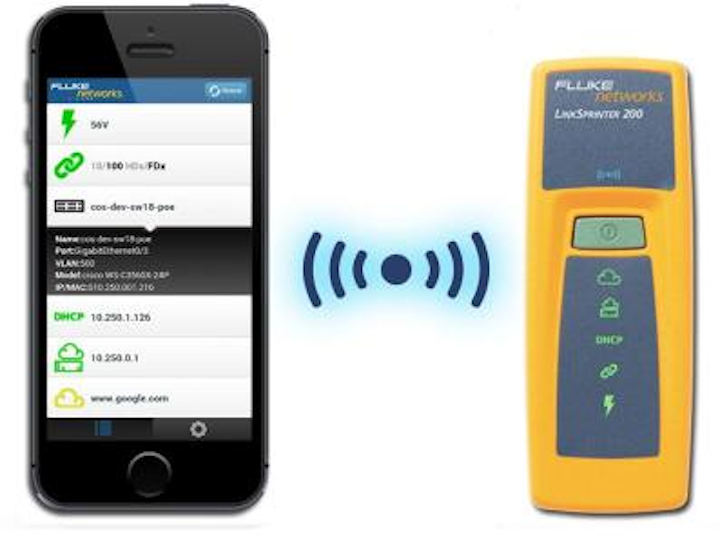 Fluke Networks today introduced LinkSprinter, which it describes as "an affordably priced pocket-sized network tester that identifies Ethernet problems in less than nine seconds." The one-button tester integrates with a user's mobile device and automatically stores test data in the cloud. "LinkSprinter helps the PC technician, system integrator, home-networking enthusiast and other consumers identify, document, store and remedy Ethernet problems from the palm of their hand," the company says, adding that the tool is "a professional-grade tester that is backed by the Fluke Networks reputation for quality and innovation."
Two versions of the tester exist. Both conduct one-button autotests on power (PoE), link, switch, DHCP (Dynamic Host Configuration Protocol), and gateway connections. LinkSprinter 100, at a price of $199, is considered a network-validation tool. It conducts the five tests and displays results in color-graded LEDs, automatically reporting results to Fluke Networks Cloud Service. The LinkSprinter 100 can be battery- or PoE-powered. LinkSprinter 200, at a price of $299, has all the capabilities of the 100 model as well as a built-in WiFi hotspot and Web server, and delivers diagnostic details to a user's mobile device.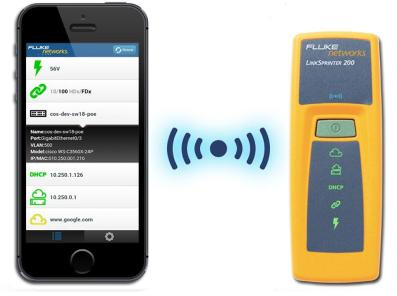 When introducing LinkSprinter, Fluke Networks explained it addresses current concerns related to Ethernet testers. "Today's network specialists and tech-savvy consumers lack frontline tools that can accommodate their on-the-go lifestyles while helping them quickly and easily identify network problems," the company stated. "In fact, a recent Spiceworks survey of PC and networking technicians revealed 63 percent encounter problems using today's basic Ethernet testers, saying they are too clunky, overly complicated, are of poor quality, or don't return the comprehensive data they need."
The key to LinkSprinter's ease of use, Fluke Networks explains, is its one-button LED interface. "Users simply connect an Ethernet cable, push a button, and instantly gain insight into cloud, gateway, DHCP, switch, link and PoE connection issues," the company said. "The LED interface highlights problem areas, while simultaneously sending detailed report information to the user's smartphone and the cloud. The display registers each test result with a green, yellow or red LED, instantly showing pass/fail status and pointing users in the direction of the problem. The cloud management systems tracks test results, providing a dashboard viewable from any remote location or smartphone. The user can even receive an email of the test results. No standalone application is required, as an embedded WiFi hotspot [within the LinkSprinter 200] allows any device with WiFi and a browser to access detailed test results—even when connectivity is inconsistent."
Fluke Networks says that thanks to its LinkSprinter cloud service, users can "Throw away your hand-scribbled notes," explaining that the service "automatically captures every test result. Once captured you can manage, analyze, email and annotate test results, then generate custom reports." The service includes 10 tests per month at no cost. For users conducting more-frequent testing, "pay-as-you-go" packages are available. A "Personal Test Pack" of 100 tests costs $9.95, and a "Fleet Test Pack" of 1,000 tests costs $79.95—"pennies per test," the company points out.
Sam Pless, systems administrator at McClelland and Hine Inc., is a LinkSprinter user. He commented that the tool "is a great fit for my business and makes it so I don't have to lug around a backpack or other heavy devices. Even better, the data is clear and comprehensive, so we no longer rely on incomplete, unactionable information from freeware. The LinkSprinter fits in my pocket and takes me from questions to answers—from home to office—in seconds. And I can run tests from multiple locations and know the data is automatically stored, so my team can access and analyze results."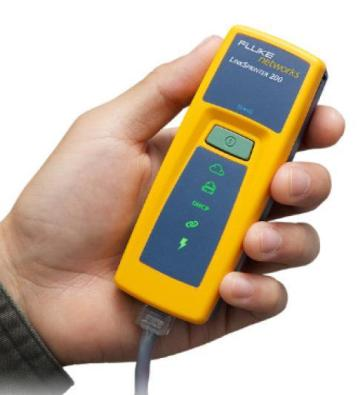 Fluke Networks president Arif Kareem added, "The LinkSprinter reinvents how frontline testing can be done. With a mobile-device interface, WiFi hotspot and cloud integration, it's literally an all-in-one troubleshooting tool anyone—from network technicians to tech-savvy consumers—can buy and use. LinkSprinter is the type of innovative solution the industry has come to expect from Fluke Networks. And this product is such a leap forward in simplicity, convenience and price point, now even someone with little technology expertise can diagnose and troubleshoot Ethernet issues in mere seconds."
LinkSprinter is available exclusively through Amazon. Visit the LinkSprinter page on Amazon.