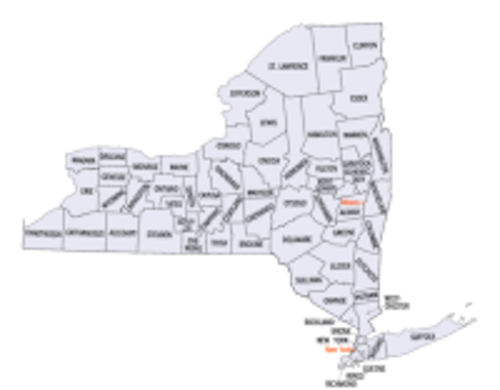 Image: Wikimedia Commons

Comcast Business has expanded the footprint of its fiber-optic network in New York. The business services unit of the cable MSO is now offering its Ethernet services to 10 additional communities in New York's Putnam, Dutchess, and Westchester counties. The newly served communities are: Beekman, Brewster, Carmel, Kent, Patterson, Pawling (town and village), Putnam Valley, Somers, and Southeast, NY.

"Our fiber expansion in these 10 communities is the latest example of the significant investments we've made to increase the availability of our Ethernet services to help foster economic development and drive competition, innovation and value for our customers," comments Charlie Tzoumas, vice president of Comcast Business in New York.

Comcast says its Carrier Ethernet services have received both MEF CE 2.0 and 1.0 certifications. The company notes that its services are delivered via a fiber-optic network that spans 140,000 miles across 39 states and the District of Columbia to serving 20 of the top 25 U.S. markets. As reported by Cabling Installation & Maintenance's sister site, Lightwave, Vertical Systems Group recently named Comcast the number six fiber-optic broadband provider in the U.S. based on market share and other metrics.

Comcast Business offers bandwidth of up to 10 Gbps, targeted for businesses, schools, hospitals, and other organizations that want more bandwidth, are looking to network multiple locations together, or that plan to connect their offices to a third-party data center. The service roster includes the following variants:
Ethernet Private Line: point-to-point connectivity between two customer sites for bandwidth-intensive applications; Ethernet Virtual Private Line: a point-to-multipoint connection to enable customers to tailor bandwidth, performance characteristics, and cost; Ethernet Network Service: multipoint-to-multipoint connectivity to connect organizations with high-bandwidth requirements and multiple locations across Comcast's network; Ethernet Dedicated Internet: continuous, high-bandwidth connectivity between customers' LANs and the public Internet.
"Whether it's a hospital transferring large radiology files, a police department looking to monitor surveillance video feeds in real-time, or a library needing more Wi-Fi capacity, bandwidth is increasingly becoming the engine driving all businesses," concludes Comcast's Tzoumas.
Source: Lightwave