Battery-powered crimper for twisted-pair, coaxial cables
Greenlee's EK50ML Micro Crimping Tool delivers 3,400 pounds of crimping force, enabling 65-percent faster crimps using 90-percent less hand force.
Aug 5th, 2014
The battery-powered EK50ML Micro Crimping Tool from Greenlee incorporates PowerSense Technology, which Greenlee explains is "a patented trigger which allows the user to hold their work in the jaws of the tool before crimping." The company says the lightweight tool can deliver 3,400 pounds of crimping force, and can crimp 65 percent faster, with 90 percent less hand force, when compared to ratcheting crimp tools.
The EK50ML is designed to crimp 28-4 AWG wire, twisted-pair, and coaxial cable using the PowerSense Technology. "Powered by a compact 10.8V Lithium-Ion battery, the EK50ML Micro Crimping Tool can perform 250 crimps on 10 AWG wire," Greenlee notes. The company further explains that using the tool to complete a crimp is a three-step process.
Manual clamping—Pull the PowerSense Technology trigger part-way and adjust material to ideal position before crimping.
Motorized crimping—Depress the PowerSense Technology trigger completely to activate the motorized crimp.
Complete—Release the PowerSense Technology trigger and the jaws will open automatically.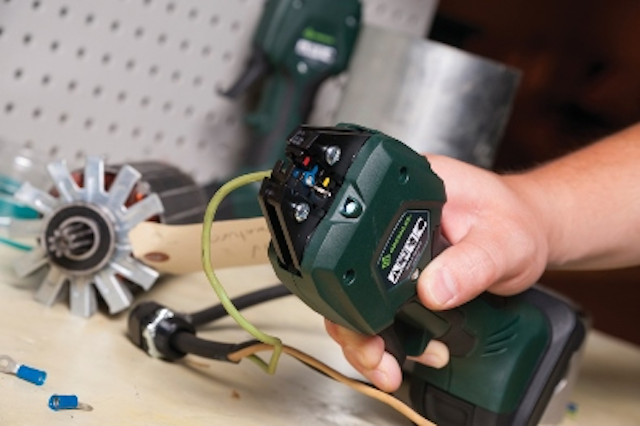 The crimper is available in two models with different jaw sizes. "The EK50ML 120 has a 12-mm jaw, and the EK50ML138 has a 13.8-mm jaw," the company explains. Greenlee also offers 42 die sets throughout its Kwik Cycle and CrimpALL lines to perform a wide range of small-diameter crimping jobs. Dies are available separately.
The EK50ML uses Greenlee's Gator Eye technology, which monitors statistical performance of all cycles, the integrity of operations, and also manages inventory with user-identifiable information.