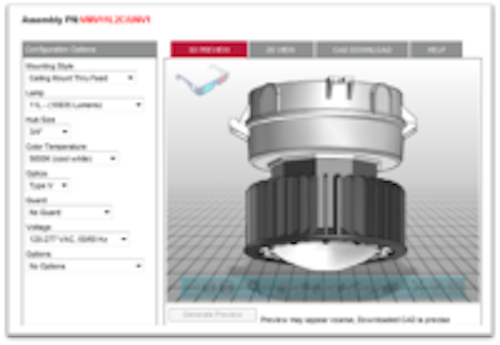 Power management specialist Eaton has introduced the CoSPEC 3D Drawing and Design online tool from its Crouse-Hinds business. The latest design tool offers customers a quick and easy method to configure, view and download Crouse-Hinds product drawings and parametric data.

Eaton's Crouse-Hinds business manufactures a range of cable fittings, enclosures, plugs and receptacles, industrial lighting fixtures, signals and alarms, and electronic components designed for the most demanding environments. The Crouse-Hinds business serves customers in the industrial and manufacturing, mining, oil and gas, solar, infrastructure and other markets.

"CoSPEC enables our customers to download models and design content in one of nearly 100 different design files," says Michael McManus, director of North American marketing, Eaton's Crouse-Hinds division. "For added convenience, file format outputs are native to the chosen software, which eliminates translation errors and speeds the integration of the content into the project."

CoSPEC gives each user the ability to configure products to the exact base catalog number and/or stock-keeping unit (SKU). The configured product can be viewed interactively and then downloaded in 2D or 3D formats for integration into a specific design package. PDF datasheets of the SKU may also be downloaded.

Additionally, Eaton's Crouse-Hinds business offers CoSPEC customers a six-step user guide to follow through the configuration and download process. There is also an 'Eaton Crouse-Hinds Support' link under the 'Help' tab for additional support contact information.

For direct access to the CoSPEC 3D Drawing and Design tool from Eaton's Crouse-Hinds business, visit www.crouse-hinds.com/cospec.