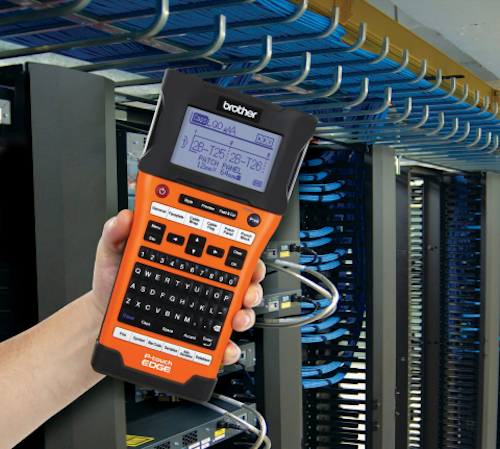 Brother Mobile Solutions (BMS) has announced the launch of its P-touch EDGE PT-E500 industrial handheld labeling tool.
According to the company, designed for professional cabling contractors and installers, the PT-E500 labeling tool incorporates smart technology, with software, connectivity and printing capabilities designed to enable fast, easy creation of clear, durable laminated labels for wire, cable and electrical installations of virtually every type and size. The handheld labeler uses easy to load, snap-in cartridges to generate labels for marking copper and fiber wire and cables, faceplates, patch panels, punch blocks, racks, cabinets and more, says the company. With just a few keystrokes, on-site installers can quickly format and print a variety of label types up to 24mm wide, including labels that conform to the ANSI/EIA/TIA-606x identifier format.

"An effective cable management system is the hallmark of a professional installation and high quality, long-lasting labeling is essential to achieving this goal," comments Craig Robinson, manager of business development for Brother Mobile Solutions. "With that in mind, we developed the P-touch EDGE PT-E500 with a rich blend of features and functionality designed to speed workflow efficiency and productivity, even in large installations."

Related: Handheld industrial labeler is optimized for cabling contractors in the field
The Brother P-touch EDGE PT-E500 labeling tool comes complete with a suite of software, carrying case, Li-ion battery and adapter, and Brother's exclusive 2-year limited exchange warranty.

Robinson continues, "More than just a standalone label printer, the new EDGE product is a complete, industrial-grade labeling toolkit offering users a wide range of options, such as formatting labels from built-in templates or custom designing labels stored in memory from a computer database. Yet it is remarkably simple to pick up and use, thanks to intuitive navigation, a QWERTY keyboard and large, backlit LCD display screen with application icons."

The new product will be shown for the first time at the 2014 BICSI Winter Conference & Exhibition, February 2-6 in Orlando, Florida. Learn more at www.edgelabeling.com.
Search for Cable Marking/Labeling Equipment in our Online Buyer's Guide