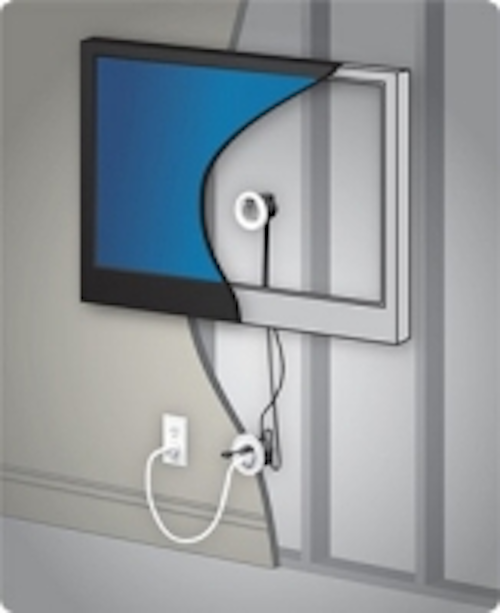 For homeowners, wall-mounting a flat- screen TV brings with it the challenge of providing power to the TV and dealing with low-voltage cables. Letting cords and cables dangle in full view is not an option; everything should be hidden from view. Legrand now offers a do-it-yourself (DIY) kit that allows for neat and easy installation of these cords and cables in under 30 minutes with no electrician involvement or hard-wiring required.

The Wiremold Flat Screen TV Cord and Cable Power Kit includes all parts and tools necessary to power up a flat-screen TV and hide all the cords and cables in the wall. "There's no hard-wiring a new wall outlet, no need to attach anything to a stud, and holes are tidy, small and fully covered by finish rings," according to a press release for the product.

See also: Legrand unveils Wiremold flat screen in-wall box

The kit uses the cavity behind interior or exterior drywall and between the studs to conceal wiring. Grommets plus a power harness and power cord form a plug-to-plug power connection; they also guide low-voltage cables into and out of the wall cavity. Legrand claims the kit allows for neat and easy installation of flat-screen TVs in under 30 minutes.

As the video below demonstrates, DIY installation using the kit is remarkably simple. Use the enclosed hole saw to make two holes: one behind the TV and the other near the baseboard. The TV plugs into the top grommet, which connects to the power harness which, in turn, connects to the lower grommet. The enclosed power cord completes the connection to a nearby wall outlet. Low-voltage cables feed through the top grommet and exit at the bottom. The kit includes fish tape to make cable pulling quick and easy. Finish rings complete the installation with a neat, professional look.

Available at Best Buy, The Home Depot, and Menards, the suggested retail price for the Wiremold Flat Screen TV Cord and Cable Power Kit is $79.99.