Cable installation made easier with lightweight reel stand
OCC's Advanced Lightweight Reel Stand is a portable with an A-frame design that weighs one-third of RL-31 military-grade stands and eases both fiber and copper cable installation.
Nov 7th, 2014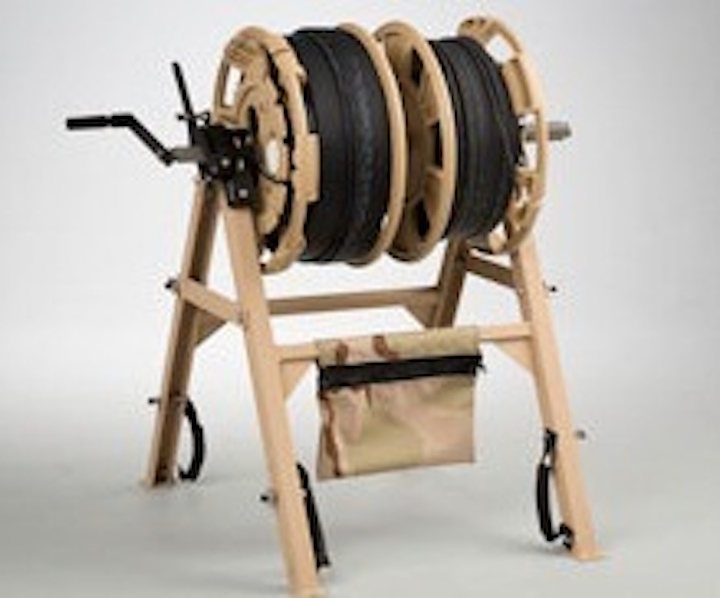 Optical Cable Corporation (OCC) recently introduced its Advanced Lightweight Reel Stand (ALRS), part of the company's Modular Advanced Reel System (MARS) that is designed as a highly portable, folding A-frame stand to provide quick, convenient payout and retrieval during both copper and fiber-optic cable installation. The ALRS requires no tools for setup, OCC said, and when configured for transport all pieces are maintained within the unit.
OCC developed the ALRS after collaborating with the U.S. military. "This partnership resulted in the development of a highly portable folding A-frame stand that was built to withstand the rigors of daily use, designed for quick and easy deployment and operation," OCC said. The aluminum-construction stand weighs one-third that of RL-31, which are commonly used military stands, OCC noted. "The simple-to-operate ALRS can operate from either direction without tipping, and is available with solid or split axles for independent rotation," the company pointed out.
The ALRS is designed for rugged environments in all temperature ranges; the cable installation tool is ozone-, fungus- and corrosion-resistant.