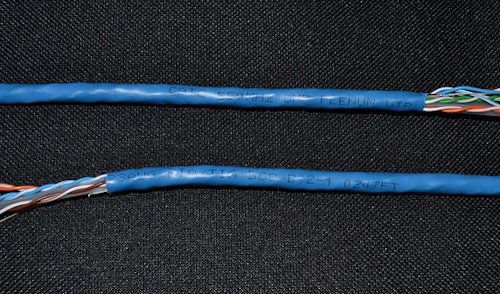 To raise more awareness regarding communications cables that do not meet applicable codes and standards requirements, the Communications Cable and Connectivity Association (CCCA; Washington, DC), a consortium of leading cabling manufacturers, distributors and material suppliers, announced that it is sharing the first of several real-world case studies involving counterfeit communications cables. The manufacture and sale of cables fail to meet standard requirements has increased and become more varied, notes the industry group, and by sharing the case studies, CCCA hopes others will be able to avoid the problem.

"CCCA is raising the alarm again and cautioning by citing real-life failures with copper clad aluminum (CCA) communication cables offered by low cost, online suppliers," comments Frank Peri, CCCA executive director. "These suppliers promote and advertise CMR or CMP cables that bear counterfeit certification marks or have no listing or verification marks from independent third-party testing laboratories. Using the lure of low price, some online suppliers can entice customers unaware of the true nature and quality of their cables. "

The first case study deals with the recent experience of a computer educator and IT coordinator for a small, K-8 elementary school who unknowingly purchased copper clad aluminum (CCA) communications cable. In this case, an online distributor advertised and sold cable that was later discovered not to have a legitimate CMP fire safety listing. Often found on building material lists, the plenum rating (CMP) signifies cable that has passed stringent fire testing and is permitted for installation into air plenum spaces. It was determined that the cable manufacturer did not have authorization to use the listing mark from the well-known independent testing agency yet it was clearly posted on the cable specs and distributor website. This particular on-line distributor has since been required by the listing agency to remove its listing mark for this cable, yet the company still continues to represent the cable as CMP, plenum approved.
"The online supplier's price was enticing and the description for the cable was convincing--they used all the right terminology regarding compliance," said the IT coordinator, as quoted in the case study. "I even contacted the supplier and they assured me that the cable was of a high quality and that they had never had any issues." While the cable was identified on the website as 23 AWG copper clad aluminum, it was also labeled as Category 6 CMP-rated and in compliance with the codes and standards."

It was during the testing of the links that the IT coordinator began to notice the conductors seemed brittle and realized that he needed to do some research about the cable he had purchased. He said he came across multiple articles and white papers from the CCCA that provided him the information he needed. "Some of the articles were downright scary, describing the potential fire hazard when using copper clad aluminum cable with PoE [Power over Ethernet] and the liabilities associated with not meeting fire codes," he said. "I did not want to be the installer who burned down a school because I installed CCA cable. The day after I found out about the fire hazard risk, I immediately disconnected all the PoE connections and began to remove cable."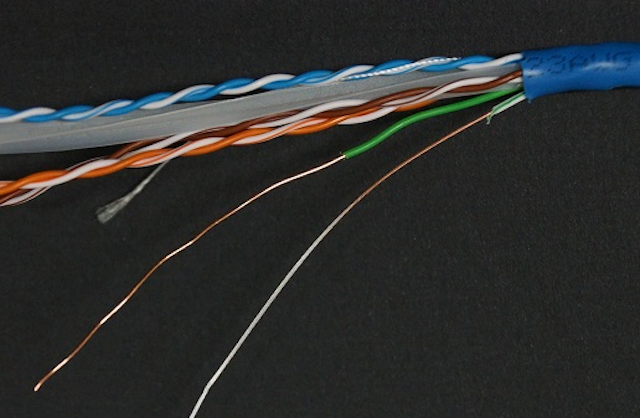 Copper-clad aluminum lessons are learned in the CCCA's new case study

The IT coordinator contacted the CCCA for more information and sent several hundred feet of the cable for analysis. Material analysis of these cable samples, and others purchased by CCCA from the same suppler, showed jacketing with minimal fire retardant and smoke suppressant properties and substitute insulation materials not suitable for installation in buildings. Although the cables were marked as being plenum (CMP) compliant and made with copper clad aluminum, the material analysis predicted catastrophic failure in the NFPA 262 plenum cable fire test, in violation of National Electrical Code (NEC) fire safety requirements. The combination of jacketing and insulating materials on these cables would produce extremely rapid flame spread and heat and heavy smoke generation in the event of a building fire, which could severely hamper evacuation and threaten life safety.

"The elementary school case is one example of disturbing trends by certain disreputable manufacturers and suppliers who constantly change sales and marketing tactics," comments CCCA's Peri. "We are not a testing agency. Our goal is to stay ahead of these people and educate all who buy, specify or come in contact with communications cable. It's vital to know what to look for and how to stay out of trouble."
Importantly, CCCA emphasizes that copper clad aluminum is perfectly acceptable in certain coaxial cables and should not be singled out as a class or type of conductors to be avoided for other cable designs.
CCCA member companies include: Accu-Tech; AlphaGary; Anixter; Belden; Berk-Tek, a Nexans Company; Cable Components Group; comCables; CommScope; Daikin America; DuPont; 3M; General Cable; Leviton; Optical Cable Corporation (OCC); OFS, a Furukawa Company; Panduit; PolyOne; Sentinel Connector Systems; Solvay Specialty Polymers; Superior Essex; TE Connectivity; The Siemon Company.