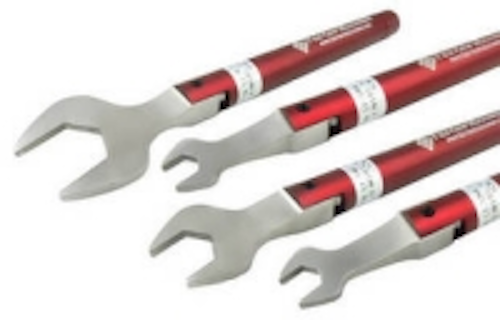 Fairview Microwave, Inc. (Allen, TX), an on-demand supplier of microwave and RF products, announced the release of a new portfolio of break-over type torque wrenches, used to precisely fasten connections between components and systems.

Fairview has added a broad range of break-over type torque wrenches, suitable for multiple RF connector types, including 1.0mm, 2.4mm, 2.92mm, 3.5mm, 7mm, SC, SMA, SMC, SSMA, SSMC, Type N and TNC designs. The RF torque wrenches are offered with hex sizes (also called bit size) of 5/16", 5/8", 15/64", 5/32", 1/4", 9/16", 13/16", 3/4" and 25/32". The maximum torque values of these break-over wrenches are pre-set, and range from 2 in-lbs to 14 in-lbs, depending on the chosen configuration.

Related story: Molex intros free RF cable, connector configurator

Fairview's break-over style torque wrenches feature a unique pivoting joint that "breaks" when the preset torque force has been reached. This prevents the connector coupling nut from being over tightened and damaged. The new break-over torque wrenches are made with a nickel-plated steel wrench head that is connected to a light weight, ultra-durable anodized aluminum handle. Each torque wrench comes calibrated in compliance with ANSI/NCSLZ540-3 and ISO_10011 standards. The RF torque wrenches are secured inside a properly labeled wooden box for convenient storage.

"Our new series of preset break-over torque wrenches provide an accurate and consistent means of applying the proper mating force for a wide variety of RF connector types," explains Greg Arnold, technical sales manager at Fairview Microwave. "The break-over action prevents over-torqueing for optimal RF performance, while minimizing wear-and-tear on the connectors."

Fairview Microwave's complete family of RF break-over torque wrenches are available from stock and can ship same-day. For additional details, visit http://www.fairviewmicrowave.com/rf-products/break-over-torque-wrenches.html.