Light Brigade issues 2015 fiber-optic training catalog
New 30-page brochure details Light Brigade's training courses, DVDs and fiber-optic tool kits.
Oct 21st, 2014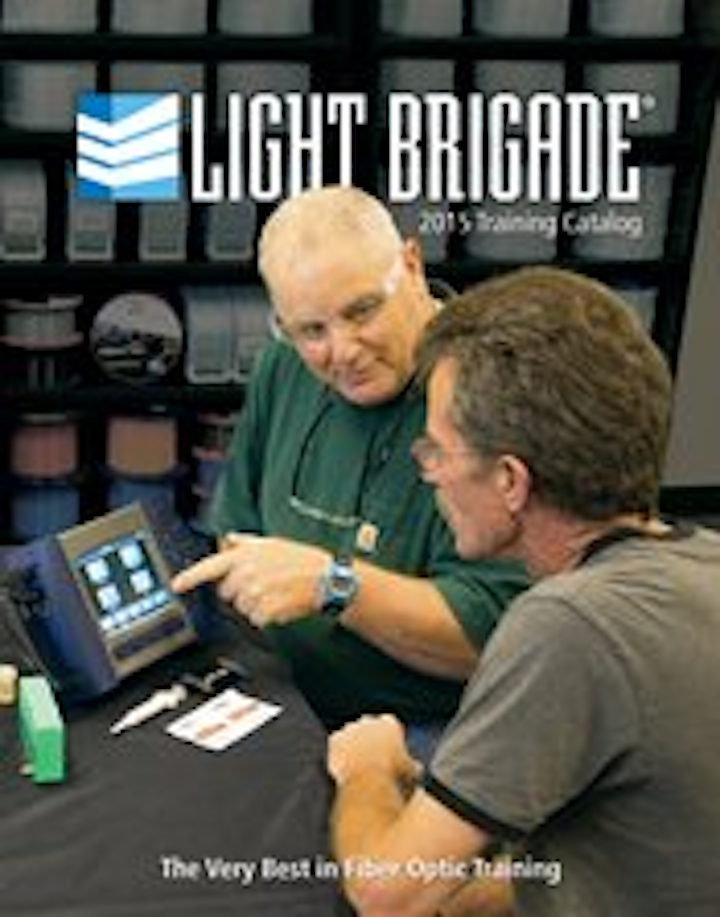 Light Brigade, the education and training unit of AFL, has released its 2015 Training Catalog, a 30-page brochure detailing the company's fiber-optic training courses, DVDs and tool kits. The catalog features a complete schedule of training dates and locations throughout the United States and Canada for each of Light Brigade's 16 training courses, including:

-- Fiber Optics 1-2-3
-- Advanced Hands-on Training
-- Emergency Restoration
-- FTTx for Installers and Technicians
-- FTTx OSP Design
-- Certified Fiber to the Home Professional
-- CFHP Online Training Program
-- Fiber Optics for ITS, Traffic, Fire Alarm and Communication Systems (Levels 1, 2, 3)
-- Fiber Optics for Utilities (Levels 1, 2, 3)
-- Fiber Characterization
-- Fiber Optics for Oil & Gas
-- Fiber Optics for Mining
-- Fiber Optics for Pro A/V and Broadcast
-- Premises/LAN Installation and Maintenance
RELATED: Light Brigade offering used fiber-optic testers, tools for sale

Each course's detail includes a syllabus and certification options to help organizations plan for their training needs throughout the year. Pricing and discount options for each course are also given and include a 10 percent discount for multiple attendees and a 15 percent discount for members of IMSA, UTC and the FTTH Council. Special GSA pricing also is available for certain courses.
Light Brigade notes that it also develops custom courses specific to needs and applications. Alumni of Light Brigade's three- and four-day classes are entitled to a variety of special benefits such as lifetime fiber-optic technical support, exclusive discounts on fiber optic equipment and products and a 25 percent savings on future training and Staff Development DVDs.

Download an electronic copy of the catalog from the Light Brigade's website.