Fiber optic cable installation equipment: Blowing machine for micro fiber cable
General Machine Products' AirStream Cable Blowing Machine achieves 260 feet of micro fiber optic cable installation per minute.
Oct 31st, 2014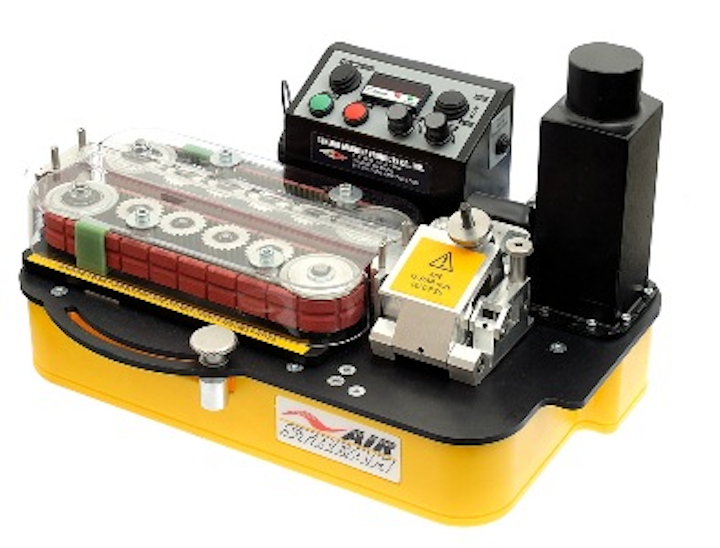 General Machine Products' (GMP) new AirStream Cable Blowing Machine is designed to safely install micro fiber optic cable into preinstalled 5- to 18-mm OD micro duct. "The AirStream will place 2.5- to 11-mm OD cable at speeds up to 80 meters [260 feet] per minute," the company said about this tool's ability to facilitate quick fiber optic cable installation. "This, along with its low maintenance and high reliability, makes the AirStream an excellent value."
The blowing machine has a tabletop design and incorporates ergonomic controls that enable one-person operation, GMP added. "The unit uses a double drive belt concept," the company said, "backed by the latest in servo control technology, to provide a secure cable grip with precise torque and speed control. The pushing force, up to 20 kg [44 pounds] maximum, can be adjusted to suit the cable stiffness."
As for the specifics of fiber optic cable installation with the AirStream, it uses compressed air to install micro fiber cable into micro duct in both indoor and outdoor environments. Its electrically powered, double belt drive system controls the cable as it is propelled through the micro duct. An electronic monitoring system provides readouts of speed and distance, and includes an emergency-stop capability.
GMP also pointed out that compressors are available for the company's complete line of cable-blowing machines, and on-site training is available to those purchasing the equipment. The company also offers rental and rent-to-own programs.