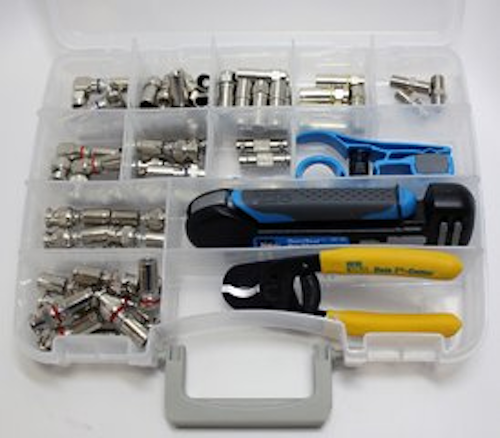 Ideal Industries has launched its Pro Compression Starter Kit, designed for installers of HDTV and analog CCTV systems. The kit contains a collection of necessary tools to prepare and connect F-Type and BNC compression connectors on coaxial cable, and includes the company's industry-standard OmniSEAL Pro XL compression tool.

Positioned as a foundation for contractor-installers in home theater, CATV, satellite systems and security applications, the kit also includes 10 different types of Ideal's InSite and RTQ compression connectors, plus adapters for HD video and analog cameras, DVRs, and/or other video surveillance equipment. Also included: Ideal's PrepPRO coaxial stripper for RG59 through 6quad wiring, and the company's Data-T Coaxial Cable Cutter.

Related product: Punchdown tool kit includes stripper, spudger, LED light

With comfortable ergonomics and a sturdy metal construction, Ideal's OmniSEAL Pro XL compression tool, also included, employs a smooth, one-cycle motion for compressing F-type, RCA, RG11, BNC and mini connectors onto coaxial cable for permanent, high-integrity connections. Ideal notes that, with its universal design, the OmniSeal Pro XL eliminates the need to carry multiple crimp or compression tools.

The tool is factory preset and calibrated to terminate all Ideal-branded compression connectors; in addition, it can terminate other manufacturers' connectors simply by adjusting the tool's plunger depth, with no adapters required. A handy 7/16-inch hex socket is also built-in to install CATV connectors.
More products: Greenlee intros 6-piece coaxial cable tool kit