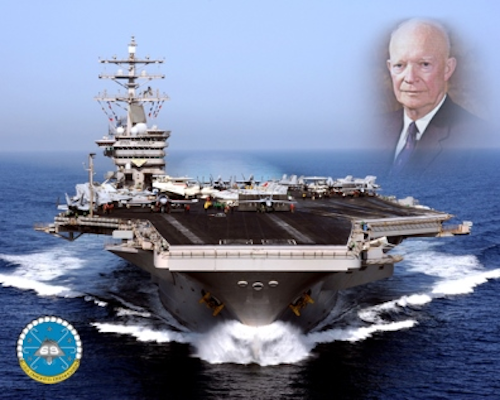 As part of a planned maintenance project, a crew of 30 United States Navy sailors completed a large-scale cabling removal and installation project aboard the aircraft carrier U.S.S. Dwight D. Eisenhower. "Ike," as the Navy referred to the vessel when describing the cabling project, currently is undergoing docking planned incremental availability (DPIA) period projects.
The ship's cableway improvement team comprises 30 people—3 first-class petty officers, 8 second-class petty officers, 13 third-class petty officers and 6 E-3 and below sailors. They completed their cabling project on June 16, the Navy said.
"The cableway team removed 6,450 dead-end cables from the cableways throughout the ship, which is equivalent to 225,700 feet (48.4 miles) of cable," reported the ship's public affairs spokesman, mass communications specialist 3rd class Jermaine M. Ralliford. "They pulled 188 of those cables to assist VT Milcom with the Consolidated Afloat Networks and Enterprise Services (CANES) installation. The cableway team completed all its DPIA jobs ahead of schedule and without any need for rework."
CANES is the Northrop Grumman project that the company says "will consolidate and modernize shipboard, submarine and shore-based command, control, communications, computers and intelligence network systems to increase capability and affordability across the fleet."
Chief electronics technician Gregory Reno is the cableway team leader. Reno said, "We were the ones tasked with removing dead-end cables and going through the whole ship inspecting it in preparation for [the Board of Inspection and Survey] (INSURV)" ship qualification process. "I think my team performed outstandingly. There were some rough spots where we had to work a little longer than others, but we had to get the job done. They worked hard, and I give all the credit in the world to them."
Information systems technician 1st class Francis Bartoszak, a cableway team member, added, "Our team did a lot of good. Together we pulled more than 200,000 feet of cable. I feel good knowing we had a good group of people who could bring the ship back into standards for INSURV."
Bartoszak and another team member created a database to track all the cableway jobs the team performed ahead of the inspection. They used the database to track the number of hours worked and help schedule outstanding maintenance. The team shared the database with the cableway team aboard the aircraft carrier U.S.S. Harry S. Truman, which is scheduled to join the carrier Eisenhower at the Norfolk Naval Shipyard later this year.
Reno concluded, "I couldn't have asked for a better team."