Brother adds Wi-Fi to industrial handheld labelers
Brother Mobile Solutions has introduced its P-touch Edge PT-E550W wireless industrial handheld labeling tool.
Apr 10th, 2014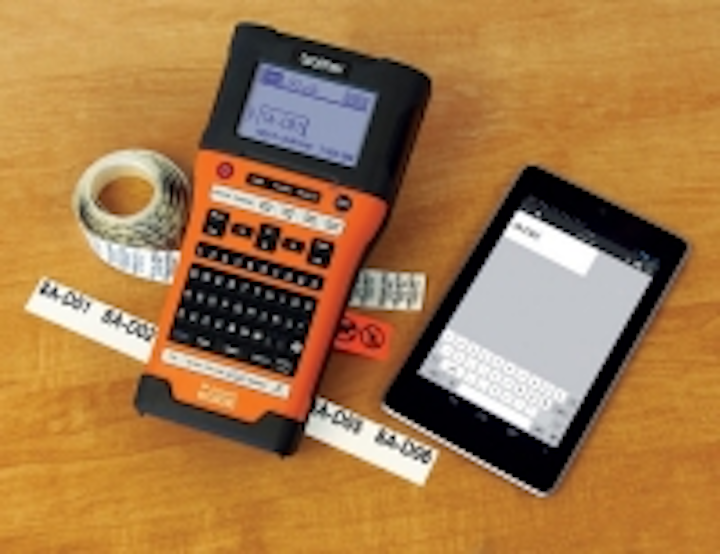 Brother Mobile Solutions has introduced its P-touch Edge PT-E550W wireless industrial handheld labeling tool. The new labeler is Brother's first industrial handheld product to feature Wi-Fi connectivity to Windows, iOS, Mac and Android devices, an enhancement designed to expand contractors' jobsite capabilities.

According to Brother, with the PT-E550W, users can download and store custom label files and databases from select tablets, smartphones or PCs to print full project labels or individual labels wirelessly and on demand at the jobsite. The PT-E550W prints labels up to 24 mm wide, including heat shrink tubing, and is further differentiated by a dual-blade auto-cutter for easy peel label strips. The company says the new tool was specifically engineered as an alternative to sheet label systems, and is intended for larger infrastructure installations.

See also: Turning cabling documentation into a strategic asset

"Building on the functionality of the PT-E500 model, our new PT-E550W industrial handheld labeling tool adds increased convenience and functionality at the job site," says Duane Yamashita, senior product manager for Brother's Edge industrial brand. "With built-in templates, files and databases instantly available via wireless connectivity, work crews can help save time, improve accuracy, and minimize keystrokes in generating clear, long-lasting labels for wires, cables, faceplates, patch cords and other components of an installation."

For contractors and installers who prefer to generate pre-printed sheet labels for their projects, Brother notes that the wireless connectivity of the PT-E550W provides greater flexibility to handle changes on-site in real-time. Should changes be required, users can make the as-built changes directly to the database in the PT-E550W, or to the same database file used for pre-printing the sheets in the office, and send the file to a computer, smartphone or tablet for printing at the site.

Yamashita adds, "This model was designed by industry pros to help datacom, telecom, audio visual, electrical and security professionals meet more stringent labeling standards and label even the largest projects faster."

Related product: Handheld industrial labeler is optimized for cabling contractors in the field

Additional features of the P-touch Edge PT-E550W, according to the company, include: label printing speeds up to 30mm per second coupled with automatic label cutting; a large, backlit LCD display showing label design settings, with the ability to preview and edit labels before printing; a QWERTY keyboard, adjustable font sizes, built-in label application keys and included label design software and templates; fast, snap-in cartridges, and the ability to accept a wide variety of tape colors, sizes and adhesive types.

The new P-touch EDGE PT-E550W industrial handheld labeler will be showcased at Data Center World Global Conference (April 28 - May 3) in Las Vegas.
Search for Cable Marking/Labeling Equipment in our Online Buyer's Guide