OneTouch AT Network Assistant now includes cloud-based analytics, automated-test capability
Fluke Networks is including the capabilities with new units and making them available as updates to existing OneTouch ATs.
Apr 11th, 2014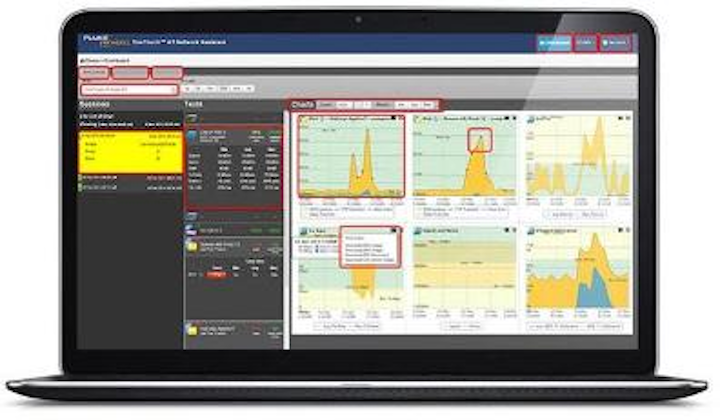 Fluke Networks has debuted cloud-services capabilities for its OneTouch AT Network Assistant handheld tester. The capabilities are packaged into all new units, and are available as an upgrade for existing units. When introducing the capabilities, Fluke Networks emphasized they provide valuable assistance to network technicians troubleshooting intermittent problems. Fluke Networks described intermittent network issues as "the torment of network technicians everywhere."
A key capability of the tester's cloud-based services is what the company calls "launch and leave"—the ability to conduct a series of tests remotely. Fluke Networks explained, "Technicians can launch a series of autonomous tests and walk away. The OneTouch tester measures network performance, uploads the results to the cloud service and repeats the cycle as frequently as every 60 seconds for as long as a week—greatly improving the chance of catching intermittent problems." Because the test results are automatically saved to the cloud, a technician can view and share these results at any time from any Internet-enabled device.
Doug Roberts, director of product marketing, said, "With the new cloud-enabled OneTouch AT Network Assistant, Fluke Networks has effectively untethered technicians from their testers. While convenience is certainly a benefit, the real value is in reducing time and effort spent solving problems that impact productivity."
Cloud-based capture and storage of test results make it easier for technicians to see network irregularities, Fluke Networks explained, with sequential test results automatically uploaded to the cloud service and plotted on color-coded charts. "Technicians can now view trended results from multiple tests side-by-side to identify correlated events," the company noted. "They can even zoom in to see details for an event within a narrower time window, and then print or download charts as documentation."
The capabilities can turn the OneTouch into a daily management and problem-avoidance tool, Fluke Networks also pointed out: "Network administrators can set up the OneTouch AT tester as a generic client device accessing one or more services or servers and leave it running. By periodically signing into the cloud service, they can view performance results and look for degradations. If something suspicious appears, technicians can use the OneTouch AT tester to identify the root cause and fix issues before employees complain."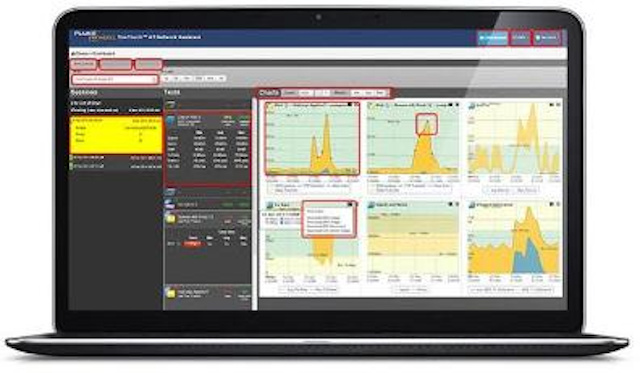 Cecil Bunn is a network engineer at the Shelby County Board of Education in Columbiana, AL and an early user of the OneTouch AT's cloud-based services. He praised the capabilities by saying, "Diagnosing network issues has gotten easier. Using the automated testing and cloud-based trend analytics, I could see that my DNS server was a huge bottleneck during peak network usage times. By increasing the RAM on the server, we sped up the networks and made everyone happy, including me. The OneTouch helped isolate the issue and solve the problem in near-record time."
The cloud-based capabilities are available as part of the OneTouch AT's Version 3 software, which is now shipping on all versions of the tool. Existing customers who have the company's gold-level support will receive the upgrade at no additional charge.
The OneTouch AT is the second test unit from Fluke Networks that leverages cloud services. The company introduced a new tool, LinkSprinter, in March.
You can visit this page for more information on the new capabilities of the OneTouch AT Network Assistant.