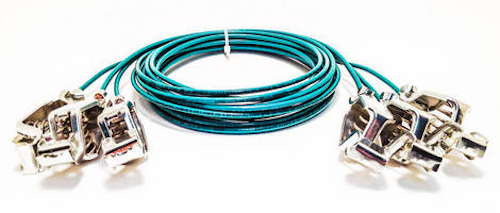 Mueller Electric Company, Inc. (Akron, OH) has introduced new custom grounding cable and clip offerings. The custom hand clamp and alligator clip cables are offered in multiple lengths, in both insulated and non-insulated versions, with copper or stainless steel wire construction. Customers may choose from terminal end options which include solid copper or steel clips; steel ground clamps; and solid copper lugs in a variety of sizes.

Grounding cables and clips are often specified to help prevent the generation of electrical sparks caused by static electricity, which can damage equipment and lead to safety hazards. Mueller says the new products are ideal for support of the typical grounding and bonding requirements found within aircraft fueling, electrical equipment, marine, oil and gas tanks and drums, and pump grounding systems.

See also: Best practices for bonding and grounding armored fiber cable
The custom grounding cables and clips may be built to exact customer specifications, or in accordance with stringent regulatory compliance requirements. Specific certifications are available upon customer request. High-current versions are also available.

The company notes that the new cables and clips are "available at highly competitive costs and with short lead times to meet virtually any price point or volume requirement." As the OEM of its own alligator clips and clamps, Mueller Electric notes that it also has the distinct advantage of vertically integrated manufacturing, allowing it to carefully manage quality and costs, while actively supporting rapid customer response times.

For more information, visit www.muellerelectric.com.
Related story: Make the right connection: Bonding a shielded system