SignalTEK CT tests copper cabling's ability to carry GbE data
Ideal Industries says its newest tester affordably 'bridges the gap between verifiers and full-blown certifiers.'
May 29th, 2014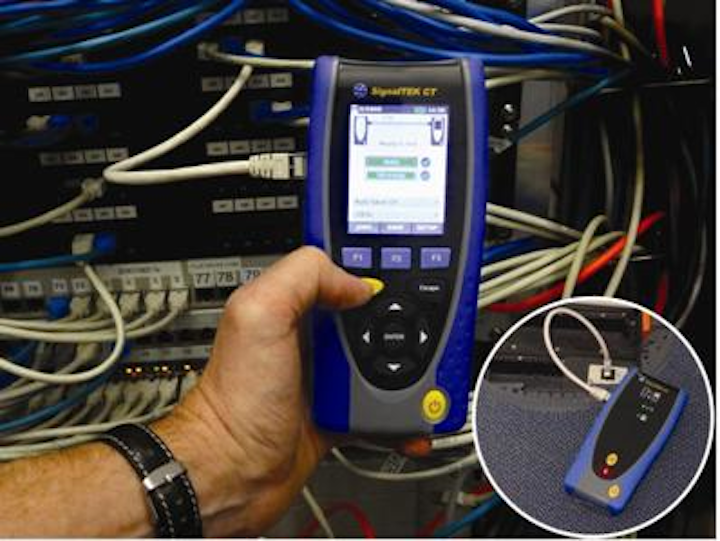 Ideal Industries recently launched the SignalTEK CT, a data-cabling transmission tester that the company explained "is designed for installers and network owners who need to prove that copper cabling has been installed correctly and is capable of supporting Gigabit Ethernet applications to the international standard IEEE 802.3ab."
Dan Payerle, Ideal business unit manager, explained, "In today's networking market, data cable installers are looking for proof of performance. After thorough research Ideal has developed an easy-to-use tester that is rugged, durable, and delivers proof confirming that the installed links run at Gigabit Ethernet transmission rates."
The company further described SignalTEK CT as "a new generation of tester that is a cost-effective alternative to LAN cable certification. It carries out two primary tests via its autotest function—a wiremap test and a data transmission test." The wiremap identifies and locates crossed pairs, opens, shorts, and split pairs using time-domain reflectometry (TDR), Ideal explained, while the data transmission test performs at either 100 or 1000 Mbits/sec, providing 100-percent load on the link from both sides. "This offers us a clear reading if the link really can support the desired Ethernet speed," the company said. "These tests perform to the IEEE 802.3ab standard by measuring if all the frames arrive at the other end of the cable, and is achieved by having two handsets, which also allows for one-person testing." A pass/fail result is displayed on screen and can be saved to a USB memory stick.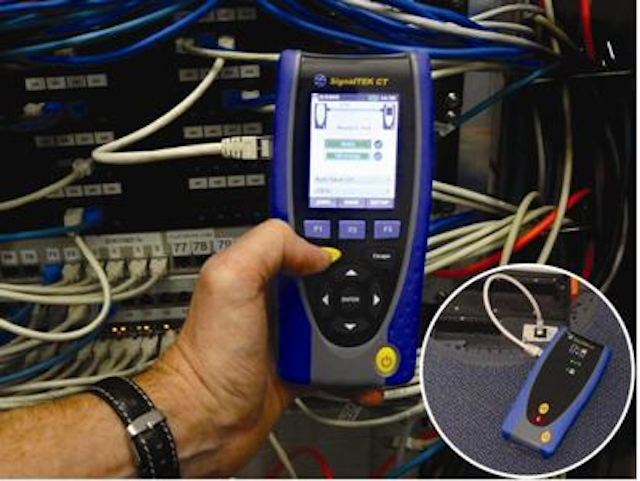 The company further detailed the SignalTEK CT's position within the market for test instruments: "Historically, contractors installing data cabling or carrying out moves, adds or changes to an existing network have used a cable certifier to guarantee compliance to international cabling standards such as ISO/IEC 11801. However, it has long been known that this level of testing is not always required. Installing networks for smaller business premises or residential properties often simply requires proof that the copper cabling has been installed correctly and can support the Gigabit Ethernet applications that are intended to be run over the network.
"The data cable transmission tester has been developed to essentially bridge the gap between verifiers and full-blown certifiers, enabling a more-affordable method of testing installations, while ensuring the work is defect-free and documented to meet end-customers' expectations of quality and reliability."
The tester is available as a kit, with display and remote units as well as rechargeable batteries, patch cables, power supply, multi-lingual manual and carrying case.