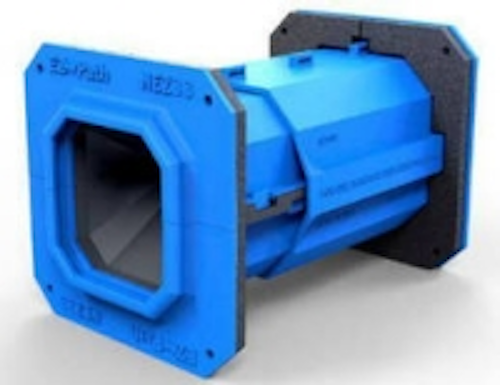 Specified Technologies, Inc. (STI) has introduced a new addition to its EZ-Path family of cable management products. Developed to improve the way cables are pulled through non-fire-rated barriers, including smoke-resistant partitions, the new EZ-Path Smoke and Acoustical Pathway provides smoke, air and environmental sealing in addition to exceptional acoustical performance, says the company.

Designed for easy, smooth cable changes while offering maximum cable protection and management, STI says the patent-pending EZ-Path Smoke and Acoustical Pathway can improve the appearance of walls by eliminating unsightly holes that transmit smoke, noise and odor. The conduit's clean, engineered design provides smoke, air, environmental, and acoustical sealing benefits in a variety of healthcare, business and education applications.

"In the healthcare environment, for example, acoustical sealing protects patient privacy," asserts Brian Hengstenberger, STI's EZ Path product manager. "Automatic sealing and remote cable pulls disrupt [fewer] ceiling tiles, which supports infection control measures. In business, acoustical sealing between offices and conference rooms helps control noise, and in classrooms it reduces noise levels to improve the learning environment. Environmental sealing maintains indoor air quality and reduces odor transmission."

See also: Fire-rated pathway now holds more cables, performs better

Providing low smoke leakage, STI contends that the zero-maintenance EZ-Path Smoke and Acoustical Pathway allows for easy, smooth cable moves, additions and changes without the need for caulk or putty. Easy to install, the pathway splits apart for old work and can be installed horizontally or vertically. Pathways adjust to accommodate wall and floor thicknesses between 4" (102 mm) and 8" (203 mm) and can be ganged for additional capacity.

While the new EZ-Path Smoke and Acoustical Pathway is designed for non-rated construction, STI notes that the original EZ-Path Fire Rated Pathway remains the optimal choice for fire-rated construction, including smoke barriers, a particular type of smoke-resistant barrier that carries a fire rating.

Search for Ducts and Raceways in our Online Buyer's Guide